Whoever is right, the fact is that the EGR approach
10th January 2008
Page 44
Page 45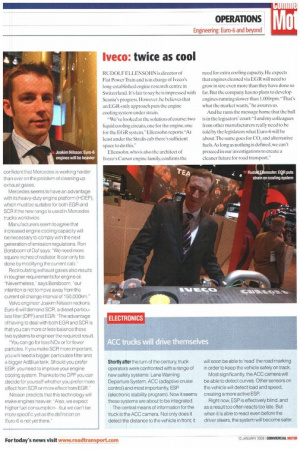 Page 44, 10th January 2008 —
Whoever is right, the fact is that the EGR approach
Close
is being tested at the proving grounds of all European truck manufacturers. Only Mercedes refuses to comment on Euro-6 in the absence of an official definition of the standard.
A spokesman says: "Euro-6 is basically a programme created by the European Commission (EC), which seeks to come up with a suitable compromise to ensure on the one hand that exhaust gas emissions from commercial vehicles are reduced, while at the same time limiting the economic impact such restrictions will have on CV manufacturers and operators.
The limit values for Euro-6 fulfilment have not yet been published by the EU, and the timing of the introduction of Euro-6 as well as the technical acceptance procedure have not yet been announced. We do not comment on future exhaust emissions if they are not finally clarified."
Nonetheless, judging by recent pictures of the next-generation Actros, CM is confident that Mercedes is working harder than ever on the problem of cleaning up exhaust gases.
Mercedes seems to have an advantage with its heavy-duty engine platform (HDEP), which must be suitable for both EGR and SCR if the new range is used in Mercedes trucks worldwide.
Manufacturers seem to agree that increased engine cooling cacao lty will be necessary to comply with the next generation of emission regulations. Ron Borsboom of Daf says: "We need more square inches of radiator. It can only be done by modifying the current cab."
Recirculating exhaust gases also results in tougher requirements for engine oil. "Nevertheless,says Borsboom. -our intention is not to move away from the current oil change interval of 150,000km."
Volvo engineer Joakim Nilsson reckons Euro-6 will demand SCR, a diesel particulate filter (OFF) and EGR: "The advantage of having to deal with both EGR and SCR is that you can more or less balance these two systems to engineer the required result.
"You can go for less NOx or for fewer particles. If you make SCR more important; you will need a bigger particulate filter and a bigger AdBlue tank. Should you prefer EGR, you need to improve your engine cooling system. Thanks to the OFF you can decide for yourself whether you prefer more effect from SCR or more effect from EGR."
Nilsson predicts that this technology will make engines heavier: "Also, we expect higher fuel consumption -but we can't be more specific yet as the definition on Euro-6 is not yet there."