and deliver
10th January 2008
Page 28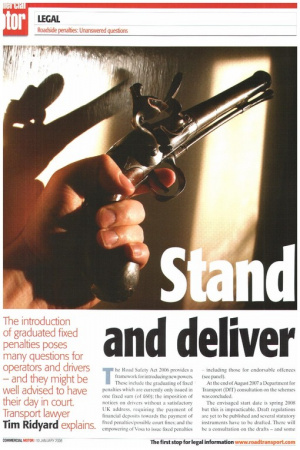 Page 29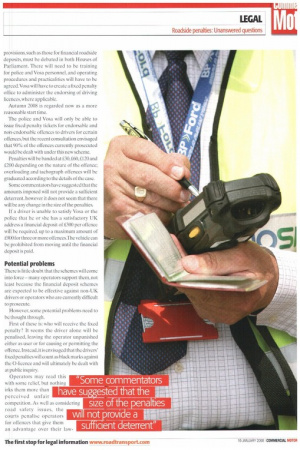 Page 30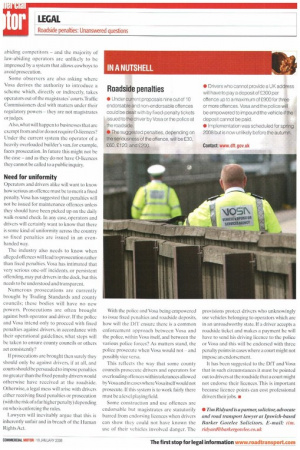 Page 28, 10th January 2008 —
and deliver
Close
he Road Safety Act 2006 provides a framework for introducing new powers. These include the graduating of fixed ' penalties which are currently only issued in one fixed sum (of £60); the imposition of notices on drivers without a satisfactory UK address, requiring the payment of financial deposits towards the payment of fixed penalties/possible court fines; and the empowering of Vosa to issue fixed penalties — including those for endorsable offences (see panel).
At the end of August 2007 a Department for Transport (DfT) consultation on the schemes was concluded.
The envisaged start date is spring 2008 but this is impracticable. Draft regulations are yet to he published and several statutory instruments have to be drafted. There will be a consultation on the drafts — and some provisions, such as those for financial roadside deposits, must be debated in both Houses of Parliament. There will need to be training for police and Vosa personnel, and operating procedures and practicalities will have to he agreed. Vosa will have to create a fixed penalty office to administer the endorsing of driving licences, where applicable.
Autumn 2008 is regarded now as a more reasonable start time.
The police and Vosa will only be able to issue fixed penalty tickets for endorsable and non-endorsable offences to drivers for certain offences, but the recent consultation envisaged that 90% of the offences currently prosecuted would be dealt with under this new scheme.
Penalties will be banded at £30,160,£120 and £200 depending on the nature of the offence; overloading and tachograph offences will he graduated according to the details of the case.
Some commentators have suggested that the amounts imposed will not provide a sufficient deterrent, however it does not seem that there will he any change in the size of the penalties.
If a driver is unable to satisfy Vosa or the police that he or she has a satisfactory UK address a financial deposit of £300 per offence will be required. up to a maximum amount of £900 for three or more offences.The vehicle can be prohibited from moving until the financial deposit is paid.
Potential problems There is little doubt that the schemes will come into force — many operators support them, not least because the financial deposit schemes are expected to be effective against non-UK drivers or operators who are currently difficult to prosecute.
However, some potential problems need to be thought through.
First of these is: who will receive the fixed penalty? It seems the driver alone will be penalised, leaving the operator unpunished either as user or for causing or permitting the offence. Instead, it is envisaged that the drivers' fixed penalties will count as black marks against the 0-licence and will ultimately be dealt with at public inquiry.
Operators may read this with sonic relief, but nothing irks them more than perceived unfair competition. As well as considering road safety issues, the courts penalise operators for offences that give them an advantage over their law abiding competitors — and the majority of law-abiding operators are unlikely to be impressed by a system that allows cowboys to avoid prosecution.
Some observers are also asking where Vosa derives the authority to introduce a scheme which, directly or indirectly, takes operators out of the magistrates' courts.Traffic Commissioners deal with matters under their regulatory powers — they are not magistrates or judges.
Also, what will happen to businesses that arc exempt from and/or do not require 0-licences? Under the current system the operator of a heavily overloaded builder's van, for example, faces prosecution. In future this might not be the case — and as they do not have 0-licences they cannot be called to a public inquiry.
Need for uniformity
Operators and drivers alike will want to know how serious an offence must be to merit a fixed penalty. Vosa has suggested that penalties will not he issued for maintenance offences unless they should have been picked up on the daily walk-round check. In any case, operators and drivers will certainly want to know that there is some kind of uniformity across the country so fixed penalties are issued in an evenhanded way.
The industry also needs to know when alleged offences will lead to prosecution rather than fixed penalties. Vosa has intimated that very serious one-off incidents, or persistent offending, may put drivers in the dock, but this needs to be understood and transparent.
Numerous prosecutions are currently brought by Trading Standards and county councils; these bodies will have no new powers. Prosecutions are often brought against both operator and driver. If the police and Vosa intend only to proceed with fixed penalties against drivers, in accordance with their operational guidelines, what steps will be taken to ensure county councils or others act consistently?
If prosecutions are brought then surely they should only be against drivers, if at all, and courts should be persuaded to impose penalties no greater than the fixed penalty drivers would otherwise have received at the roadside. Otherwise, a legal mess will arise with drivers either receiving fixed penalties or prosecution (with the risk of a far higher penalty) depending on who is enforcing the rules.
Lawyers will inevitably argue that this is inherently unfair and in breach of the Human Rights Act. With the police and Vosa being empowered to issue fixed penalties and roadside deposits, how will the Df l' ensure there is a common enforcement approach between Vosa and the police, within Vosa itself, and between the various police forces? As matters stand, the police prosecute when Vosa would not — and possibly vice versa.
This reflects the way that some county councils prosecute drivers and operators for overloading offences within tolerances allowed byVosa and in cases where Vosa itself would not prosecute. If this system is to work fairly there must be a level playing field.
Some construction and use offences are endorsable but magistrates are statutorily barred from endorsing licences when drivers can show they could not have known the use of their vehicles involved danger. The provisions protect drivers who unknowingly use vehicles belonging to operators which are in an unroadworthy state. If a driver accepts a roadside ticket and makes a payment he will have to send his driving licence to the police or Vosa and this will be endorsed with three penalty points in cases where a court might not impose an endorsement It has been suggested to the DfT and Vosa that in such circumstances it must be pointed out to drivers at the roadside that a court might not endorse their licences. This is important because licence points can cost professional drivers their jobs. •