LEGAL BRIEFS
10th January 2008
Page 25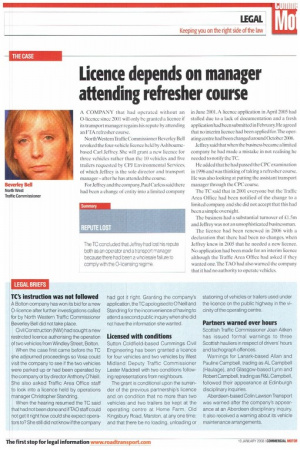 Page 25, 10th January 2008 —
LEGAL BRIEFS
Close
IC's instruction was not followed
A Bolton company has won its bid for a new 0-licence after further investigations called for by North Western Traffic Commissioner Beverley Bell did not take place.
Civil Construction (NW) had sought a new restricted licence authorising the operation of two vehicles from Wind ley Street, Bolton, When the case first came before the TC she adjourned proceedings so Vosa could visit the company to see if the two vehicles were parked up or had been operated by the company or by director Anthony O'Neill. She also asked Traffic Area Office staff to look into a licence held by operations manager Christopher Stand ring.
When the hearing resumed the TC said that had not been done and if TAO staff could not get it right how could she expect operators to? She still did not know if the company
had got it right. Granting the company's application, the TC apologised to O'Neill and Stand ring for the inconvenience of having to attend a second public inquiry when she did not have the information she wanted.
Licensed with conditions
Sutton Coldfield-based Cummings Civil Engineering has been granted a licence for four vehicles and two vehicles by West Midland Deputy Traffic Commissioner Lester MaddreIl with two conditions following representations from neighbours.
The grant is conditional upon the surrender of the previous partnership's licence and on condition that no more than two vehicles and two trailers be kept at the operating centre at Home Farm, Old Kingsbury Road, Marston, at any one time and that there be no loading, unloading or stationing of vehicles or trailers used under the licence on the public highway in the vicinity of the operating centre.
Partners warned over hours
Scottish Traffic Commissioner Joan Aitken has issued formal warnings to three Scottish hauliers in respect of drivers' hours and tachograph offences.
Warnings for Lanark-based Allan and Pauline Campbell, trading as AL Campbell (Haulage), and Glasgow-based Lynn and Robert Campbell, trading as IR&L Campbell, followed their appearance at Edinburgh disciplinary inquiries.
Aberdeen-based Colin Lawson Transport was warned after the company's appearance at an Aberdeen disciplinary inquiry. It also received a warning about its vehicle maintenance arrangements.