Environmental offender is refused a new licence
10th January 2008
Page 23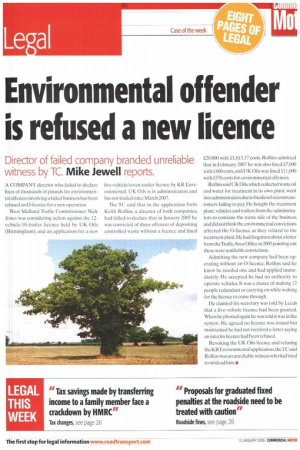 Page 23, 10th January 2008 —
Environmental offender is refused a new licence
Close
Director of failed company branded unreliable
witness by TC. Mike Jewell reports.
A COMPANY director who faded to declare fines of thousands of pounds for environmental offences involving a failed business has been refused an 0-licence for a new operation.
West Midland Traffic Commissioner Nick Jones was considering action against the 12vehiele/10-trailer licence held by UK Oils (Birmingham), and an application for a new five-vehicle/seven-trailer licence by KR Environmental. UK Oils is in administration and has not traded since March 2007.
The TC said that in the application form Keith Rollins, a director of both companies, had failed to declare that in January 2005 he was convicted of three offences of depositing controlled waste without a licence and fined £20,000 with £1,613.17 costs. Rollins admitted that in February 2007 he was also fined £7,000 with /400 costs, and UK Oils was fined £11,000 with £576 costs for environmental offences.
Rollins said UK Oils, which collected waste oil and water for treatment in its own plant, went into administration due to biodiesel account customers failing to pay. He bought the treatment plant, vehicles and trailers from the administrators to continue the waste side of the business and did not think the environmental convictions affected the 0-licence as they related to the treatment plant. He had forgotten about a letter from theTraffic Area Office in 2005 pointing out these were notifiable convictions.
Admitting the new company had been operating without an 0-licence. Rollins said he knew he needed one and had applied immediately. He accepted he had no authority to operate vehicles. It was a choice of making 12 people redundant or carrying on while waiting for the licence to come through.
He claimed his secretary was told by Leeds that a five-vehicle licence had been granted. When he phoned again he was told it was in the system. He agreed no licence was issued but maintained he had not received a letter saying an interim licence had been refused.
Revoking the UK Oils licence and refusing the KR Environmental application,thelt said Rollins was an unreliable witness who had tried to mislead him.s