Rover wait and see
10th January 1987
Page 8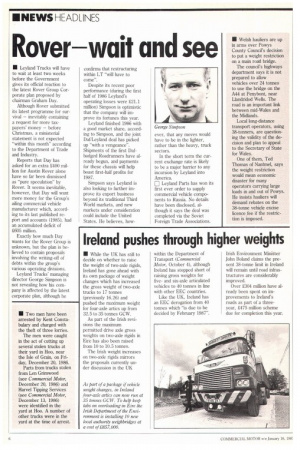 Page 8, 10th January 1987 —
Rover wait and see
Close
Keywords :
British Leyland
,
Rover
,
British Brands
,
Paccar
,
Leyland Trucks
,
Rover Company
,
Rover Group
,
George Simpson, Baron Simpson Of Dunkeld
,
Austin Motor Company
,
Leyland Motors
,
Ashok Leyland
,
Business / Finance
• Leyland Trucks will have to wait at least two weeks before the Government gives its official reaction to the latest Rover Group Corporate plan proposed by chairman Graham Day.
Although Rover submitted its latest programme for survival — inevitably containing a request for more taxpayers' money — before Christmas, a ministerial statement is not expected "within this month" according to the Department of Trade and Industry.
Reports that Day has asked for an extra £400 million for Austin Rover alone have so far been dismissed as "pure speculation" by Rover. It seems inevitable, however, that Day will want more money for the Group's ailing commercial vehicle manufacturer which, according to its last published report and accounts (1985), had an accumulated deficit of £605 million.
Exactly how much Day wants for the Rover Group is unknown, but the plan is believed to contain proposals involving the writing-off of debts within the group's various operating divisions.
Leyland Trucks' managing director George Simpson is not revealing how his company is affected by the latest corporate plan, although he confirms that restructuring within LT "will have to come".
Despite its recent poor performance (during the first half of 1986 Leyland's operating losses were £21.1 million) Simpson is optimistic that the company will improve its fortunes this year.
Leyland finished 1986 with a good market share, according to Simpson, and the joint Daf/Leyland deal has picked up "with a vengeance". Shipments of the first Dafbadged Roadrunners have already begun, and payments for these chassis will help boast first-half profits for 1987.
Simpson says Leyland is also looking to further improve its export business beyond its traditional Third World markets, and new markets under consideration could include the United States. He believes. how ever, that any moves would have to be in the lighter, rather than the heavy, truck sectors.
In the short term the current exchange rate is likely to be a major barrier to any incursion by Leyland into America.
Leyland Parts has won its first ever order to supply commercial vehicle components to Russia. No details have been disclosed, although it says the deal was completed via the Soviet Foreign Trade Associations.