ROADSIDE AND GARAGE.
10th January 1922
Page 33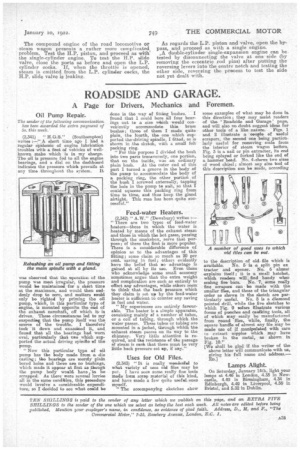 Page 33, 10th January 1922 —
ROADSIDE AND GARAGE.
Close
A Page for Drivers, Mechanics and Foremen.
Oil Pump Repair.
The sender of the following cot munication. has been awarded the extra payment of 5s. this week.'
(2,341) " H. G. S." (Southampton) writes :—" A short time ago I had a regular epidemic of engine lubrication .troubles with a fleet of vehicles of wellknown snake which is in my charge. The oil is pressure fed to all the engine bearings, and a dial on the dashboard indicates the pressure which prevails at any time throughout the system. It was observed that the operation of the pump was most irregular, the pressure would be maintained for a short time at the maximum, and would then suddenly drop to zero, and matters could only be righted by priming the oil pump, which, in this particular type of engine, is mounted opposite the end of the exhaust camshaft, off which it: is driven. These circumstances led to ma; suspect* that the pump itself was the source of the trouble. I therefore' took it down and examined it, and found that all the bearings had worn oval, particularly that owe which supported the actual driving spindle of the pump.
'Now this particular type of en• pump has the body made from a die casting; the bearings are merely plain bored holes and there are no bushings, which made it appear at first as though the pump body would have :to bbescrapped. As there were several. lorries all in the same condition, this procedure would involve a considerable expenditure, so I decided to see what could be done in the way of fitting bushes. I found that I could bore all four bearings out to a size which would conveniently accommodate thin brass bushes; three of them I made quite plain, the fourth, the one which aupported thedriving spindle, I .fitted, as is shown in the sketch, with a small felt packing ring. "For this purpose I divided the bush into two parts transversely, one portion, that on the inside, was en ordinary plain bush. At the outer end of this part I turned a groove in the body of the pump to accommodate the body of a packing ring, the other portion of the bush I screwed externally, tapping the hole in the pump to suit, so that I could squeeze this peeking ring from time to time, and thus keep the gland airtight. This ruse has been quite successful."
Feed-water Heaters.
(2,342) " A.W." (Dewsbury) writes :— • " There are two types of feed-water heaters—those in which the water is heated by means of the exhaust steam and those in which the hot gases, passing through the smekebox, serve that purpose; of these the first is more popular. There is a considerable difference of opinion as to the advantages of this fitting; some claim so much as 20 per cent. saving in fuel; others evidently have the belief that no advantage is gained. at all, by its use. Even those who acknowledge some small economy sometimes argue that the extra weight and complication are such as entirely to offset a.ny advantages, while others seem to think that the back pressure which they claim is set up by the feed-water heater is sufficient to counter any saving in fuel and water.
" My experiences are entirely favourable. The heater is a simple apparatus, consisting mainly of a number of tubes, or a coil of tubing, through which the water passes. These tubes or tubing are mounted in a jacket, through which the exhaust steam passes on its way to the chimney. Very little attention is required, and the resistance of the passage of steam is such that there must be very Little back pressure set up, if any."
Uses for Old Files.
(2,343) "it is really wendewlel to what variety of uses old flies may be put. I have sees some really fine tools made from scrap material of this kind, and have made a few quite useful., ones myself.
The acoofnpanying sketches show
some examples of what may be done in. this direction ; they may assist readers of the Roadside and 'Garage' page, and will also no doubt suggest ideas for
other tools of a like nature. Figs. 1 and 2 illustrate a • donee of useful scrapers, the second one being particularly useful for removing scale from the interior of steam wagon boilers. Fig. 3 is a nail or pin extractor, its end being splayed or forked like the end of a hammer head. No. Cshows two sizes of wood chisel; almost any size tool of this description can be made, according to the description of old• file which is
available. No. 5 is a split pin ex tractor and opener. No. 6 almost explains itself ; it is a small hatchet, which readers will; find handy when scaling fire bars. No. 7, some really fine scrapers can be made with the smaller files, and those of the triangular order as showa in the sketch are particularly useful. No. 8 is a diamond pointed drill, while the five sketches to which Fig. 9 asters illustrate various forms of pintche.s and caulking tools, all of which may easily be manufactured from round files, while, finally, the square handle of almost any file may be made use of if manipulated with =a to extract nipples which may have broken in the metal, as shown in Fig. 10!'
[We shall be glad if the writer of the above letter will communicate with us, giving his full name and address.— ED.]
• Lamps Alight, On Saturday, January 14th, light your lamps at 4.46 in London, 4.35 in Newcastle, 4.49 in Birmingham, 4.34 in Edinburgh, 4.49 in Liverpool, 4.56 in Bristol, and 5.32 in Dublin.