ONE HEARS
10th January 1918
Page 3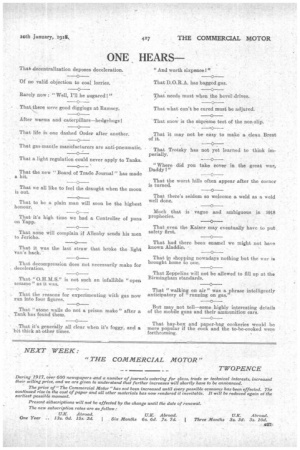 Page 3, 10th January 1918 —
ONE HEARS
Close
That decentralization deposes deceleration.
Of no valid objection to coal lorries.
Rarely now : "Well, I'll be sugared " That there were good diggings at Ramsey.
After worms and caterpillars—hedgehogs I That life is one dashed Order after another.
That gas-mantle manufacturers are anti-pneumatic.
That a light regulation could never apply to Tanks.
That the new "Board of Trade Journal" has made a hit.
That we all like to feel the draught when the moon is out.
That to be a plain man will soon be the highest honour.
That it's high time we had a Controller of puns on Yapp.
That none will complain if Allenby sends his men to Jericho.
That it was the last straw that broke the light Van's back.
That decompression does not necessarily make for deceleration.
That "O.H.M.S." is not such an infallible "open sesame" as it was.
That the reasons for experimenting with gas now run into four figures" That "stone walls do not a prison make" after a Tank has found them.
That it's generally all clear when it's foggy, and a bit thick at other times. "And worth sixpence!"
That D.O.R.A. has bagged gas.
That needs must when the bevel, drives.
That what can't be cured must be adjured.
That snow is the supreme test of the non-slip.
That it may not be easy to make a clean Brest of it.
That Trotsky has not yet learned to think imperially.
Where did you take cover in the great war, Daddy?"
That the worst hills often appear after the corner is turned.
That there's seldom so welcome a weld as a weld well done.
Much that is ' vague and ambiguous in 1918 prophecies.
That had there been enamel we might not have known Aladdin, That in shopping nowadays nothing but the war ia brought home to one, That Zeppelins will not be allowed to fill up at the Birmingham standards.
That "walk ing on air" was a phrase intelligently anticipatory of " running on gas!'
I3ut may not tell—sore highly interesting details of the mobile guns and their ammunition cars.
That hay-box and paper-bag cookeries would he more popular if the cook and the 'to-be-cooked were forthcoming.