BRIEFS
10th February 1994
Page 6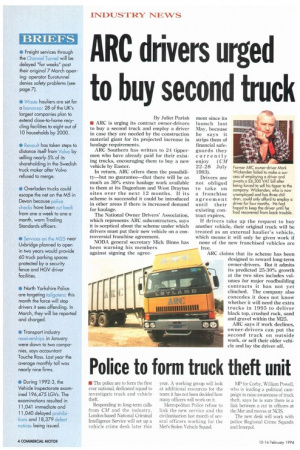 Page 6, 10th February 1994 —
BRIEFS
Close
• Freight services through the will be delayed "for weeks" past their original 7 March opening: operator Eurotunnel denies safety problems (see page 7).
• Waste hauliers are set for a bonanza: 28 of the UK's largest companies plan to extend close-to-home recycling facilities to eight out of 10 households by 2000.
• Renault has taken steps to
distance itself from by selling nearly 5% of its shareholding in the Swedish truck maker after Volvo refused to merge.
Overladen trucks could escape the net on the M5 in Devon because police have been cut back from one a week to one a month, warn Trading Standards officers.
• Serv near Uxbridge planned to open in two years would provide 60 truck parking spaces protected by a security fence and HGV driver facilities.
North Yorkshire Police are targeting t:Jugoters: this month the force will stop drivers it sees offending. In March, they will be reported and charged.
• Transport industry receivershii.: in January were down to two companies, says accountant Touche Ross. Last year the average monthly toll was nearly nine firms.
During 1992-3, the Vehicle Inspectorate examined 196,475 LGVs. The examinations resulted in 11,041 immediate and 11,040 delayed prohibitior• and 18,379 ..-iefect notice:. being issued.