ARC drivers urged to buy second truck
10th February 1994
Page 6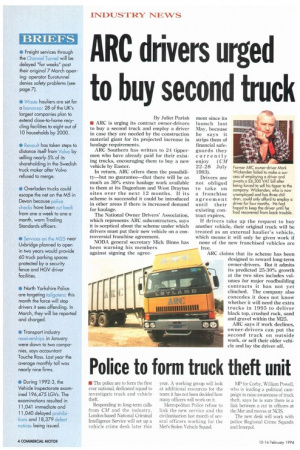 Page 6, 10th February 1994 —
ARC drivers urged to buy second truck
Close
By Juliet Parish • ARC is urging its contract owner-drivers to buy a second truck and employ a driver in case they are needed by the construction material giant for its projected increase in haulage requirements.
ARC Southern has written to 24 tippermen who have already paid for their existing trucks, encouraging them to buy a new vehicle by Easter.
In return, ARC offers them the possibility—but no guarantee—that there will be as much as 30% extra haulage work available to them at its Dagenham and West Drayton sites over the next 12 months. If its scheme is successful it could be introduced in other areas if there is increased demand for haulage.
The National Owner Drivers' Association, which represents ARC subcontractors, says it is sceptical about the scheme under which drivers must put their new vehicle on a controversial franchise agreement.
NODA general secretary Mick Binns has been warning his members against signing the agree ment since its launch last May, because he says it strips them of financial safeguards they currently enjoy (CM 22-28 July 1993).
Drivers are not obliged to take on a franchise agreement until their existing contract expires.
If drivers take up the request to buy another vehicle, their original truck will be treated as an external haulier's vehicle, which means it will only be given work if none of the new franchised vehicles are free.
ARC claims that its scheme has been designed to reward long-term O owner-drivers. But it admits its predicted 25-30% growth at the two sites includes volumes for major roadbuilding contracts it has not yet clinched. The company also concedes it does not know whether it will need the extra trucks in 1995 to deliver black top, crushed rock, sand and gravel within the M25.
ARC says if work declines, owner-drivers can put the second truck on outside work, or sell their older vehicle and lay the driver off.