spPcial Agent
10th February 1994
Page 40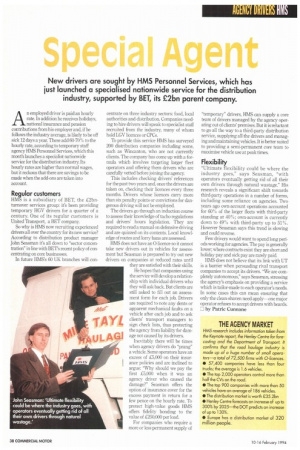 Page 40, 10th February 1994 —
spPcial Agent
Close
New drivers are sought by HMS Personnel Services, which has just launched a specialised nationwide service for the distribution industry, supported by BET, its £2bn parent company.
An employed driver is paid an hourly rate. In addition he receives holidays, national insurance and pension contributions from his employer and, if he follows the industry average, is likely to be off sick 12 days a year. These add 60-70% to the hourly rate, according to temporary staff agency H1VIS Personnel Services, which this month launches a specialist nationwide service for the distribution industry Its hourly rates are higher than normal wages, but it reckons that there are savings to be made when the add-ons are taken into account.
Regular customers HMS is a subsidiary of BET, the .2bnturnover services group: it's been providing temporary HGV drivers for a quarter of a century. One of its regular customers is United Transport, a BET company.
So why is HMS now recruiting experienced drivers all over the country for its new service? According to distribution product manager John Seasman it's all down to "sector concentration" in line with BET's recent policy of concentrating on core businesses.
In future HMS's 60 UK branches will con
centrate on three industry sectors: food, local authorities and distribution. Companies needing to hire drivers will speak to specialist staff recruited from the industry, many of whom hold LGV licences or CPCs.
To provide this service HMS has surveyed 200 distribution companies including some, such as Wincanton, who are not currently clients. The company has come up with a formula which involves targeting larger fleet operators and offering them drivers who are carefully vetted before joining the agency.
This includes checking drivers' references for the past two years and, once the drivers are taken on, checking their licences every three months. Drivers whose licences carry more than six penalty points or convictions for dangerous driving will not be employed.
The drivers go through an induction course to assess their knowledge of tacho regulations and drivers' hours legislation. They are required to read a manual on defensive driving and are quizzed on its contents. Local knowledge of routes and lorry bans are assessed.
HMS does not have an 0-licence so it cannot take new drivers out in vehicles for assessment but Seasman is prepared to try out new drivers on companies at reduced rates until they are satisfied with their skills.
He hopes that companies using the service will develop a relationship with individual drivers who they will ask back. But clients are still asked to fill out an assessment form for each job. Drivers are required to note any dents or apparent mechanical faults on a vehicle after each job and to ask clients' transport managers to sign check lists, thus protecting the agency from liability for damage not caused by its drivers.
Inevitably there will be times when agency drivers do "prang" a vehicle. Some operators have an excess of £5,000 on their insurance policies and are inclined to argue: "Why should we pay the first £5,000 when it was an agency driver who caused the damage?" Seasman offers the option of insurance cover for the excess payment in return for a few pence on the hourly rate. To protect high-value goods HMS offers fidelity bonding to the value of £250,000 per load_ For companies who require a more or less permanent supply of "temporary" drivers, HMS can supply a core team of drivers managed by the agency operating out of clients' premises. But it is reluctant to go all the way to a third-party distribution service, supplying all the drivers and managing and maintaining vehicles. It is better suited to providing a semi-permanent core team to maximise vehicle use at peak times.
Flexibility
"Ultimate flexibility could be where the industry goes," says Seasman, "with operators eventually getting rid of all their own drivers through natural wastage." His research reveals a significant shift towards third-party operations in a number of forms, including some reliance on agencies. Two years ago own-account operations accounted for 60% of the larger fleets with third-party standing at 40%; own-account is currently down to 49% with third-party up to 51%. However Seasman says this trend is slowing and could reverse.
Few drivers would want to spend long periods working for agencies, The pay is generally lower; where contracts exist they are short and holiday pay and sick pay are rarely paid.
HMS does not believe that its link with UT is a barrier when persuading rival transport companies to accept its drivers. "We are completely autonomous," says Seasman, stressing the agency's emphasis on providing a service which is tailor-made to each operator's needs. In some cases this can mean ensuring that only the clean-shaven need apply—one major operator refuses to accept drivers with beards. El by Patric Cunnane