LETTERS OF THE LAW
10th February 1994
Page 38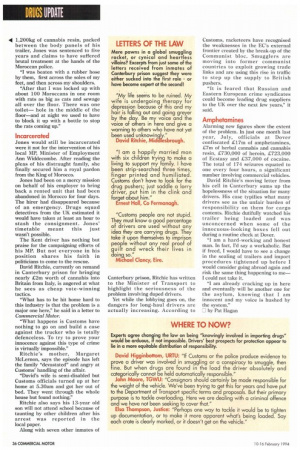 Page 38, 10th February 1994 —
LETTERS OF THE LAW
Close
Mere pawns in a global smuggling racket, or cynical and heartless villains? Excerpts from just some of the letters received from inmates of Canterbury prison suggest they were either sucked into the first role or have become expert at the second!
"My life seems to be ruined. My wife is undergoing therapy for depression because of this and my hair is falling out and going greyer by the day. Be my voice and the voice of others in here and give a warning to others who have not yet been used unknowingly." David Ritchie, Middlesbrough.
"I am a happily married man with six children trying to make a living to support my family. I have been strip-searched three times, finger printed and humiliated. Customs don't have to look for the drug pushers; just saddle a lorry driver, put him in the clink and forget about him." Ei nest Hall, Co Fermanagh.
"Customs people are not stupid. They must know a good percentage of drivers are used without any idea they are carrying drugs. They take it upon themselves to imprison people without any real proof of guilt and wreck their lives in doing so."
Michael Clancy, Eire.