Sensitive areas
10th February 1994
Page 21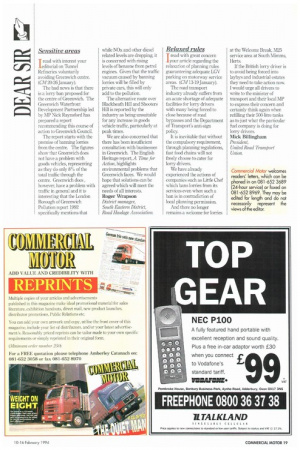 Page 21, 10th February 1994 —
Sensitive areas
Close
T read with interest your 1editorial on Tunnel Refineries voluntarily avoiding Greenwich centre. (CM20-26January).
The had news is that there is a lorry ban proposed for the centre of Greenwich The Greenwich Waterfront Development Partnership led by MP Nick Raynsford has prepared a report recommending this course of action to Greenwich Council.
The report starts with the premise of banning lorries from the centre. The figures show that Greenwich does not have a problem with goods vehicles, representing as they do only 8% of the total traffic through the centre. Greenwich does, however: have a problem with traffic in general and it is interesting that the London Borough of Greenwich Pollution report 1992 specifically mentions that
while NOx and other diesel related levels are dropping, it is concerned with rising levels of benzene from petrol engines. Given that the traffic vacuum caused by banning lorries will be filled by private cars, this will only add to the pollution.
The alternative mute over Blackheath Hill and Shooters Hill is reported by the industry as being unsuitable for any increase in goods vehicle traffic, particularly at peak times.
We are also concerned that there has been insufficient consultation with businesses in Greenwich. The English Heritage report, A Time for Action, highlights environmental problems that Greenwich faces, We would hope that solutions can be agreed which will meet the needs of all interests.
Roger Wrapson District manager, South Eastern District, Road Haulage Association.
Relaxed rules
T read with great concern
your article regarding the relaxation of planning rules guaranteeing adequate LGV parking on motorway service areas. (CM 13-19 January).
The road transport industry already suffers from an acute shortage of adequate facilities for lorry drivers with many being forced to close because of road bypasses and the Department of Transport's anti-sign policy.
It is inevitable that without the compulsory requirement, through planning regulations, fast food chains will not freely choose to cater for lorry drivers.
We have already experienced the actions of companies such as Little Chef which bans lorries from its services even when such a ban is in contradiction of local planning permission.
And there no longer remains a welcome for lorries at the Welcome Break, M25 service area at South Mimms, Herts.
ff the British lorry driver is to avoid being forced into laybys and industrial estates they need to take action now. I would urge all drivers to write to the minister of transport and their local MP to express their concern and certainly think again when refilling their 500-litre tanks as to just what the particular fuel company is doing for lorry drivers.
Mick Billingham President, United Road Transport Union.