Over hours in roadworks
10th February 1994
Page 18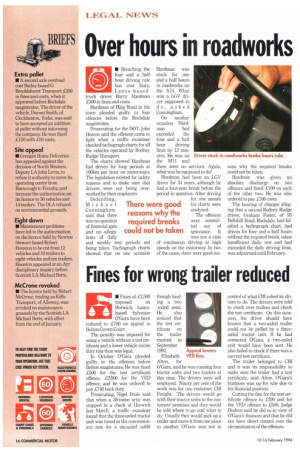 Page 18, 10th February 1994 —
Over hours in roadworks
Close
• Breaching the four and a half hour driving rule has cost Bury, Lancs-based truck driver Harry Hardman 1300 in fines and costs.
Hardman of Haig Road in the town pleaded guilty to four offences before the Rochdale magistrates.
Prosecuting for the DOT, John Heaton said the offences came to light when a traffic examiner checked tachograph charts for all the vehicles operated by Rodney Rudge Transport.
The charts showed Hardman had driven for long periods at 100km per hour on motorways. The legislation existed for safety reasons and to make sure that drivers were not being overworked by their employers.
Defending, Michael Cunningham said that there was no question of financial gain and no allegations of daily and weekly rest periods not being taken. Tachograph charts showed that on one occasion Hardman was stuck for one and a half hours in roadworks on the A74. What was a WV driver supposed to do, asked Cunningham.
On another occasion Hard man had exceeded the four and a half hour driving limit by 12 minutes. He was on the MI1 and there were no services. Again, what was he supposed to do?
Hardman had been an LGV driver for 34 years, although he had a four-year break before the period in question. After driving for one month his charts were analysed.
The offences were committed out of ignorance. It was not a case of continuous driving at high speeds on the motorway. In two of the cases, there were good rea sons why the required breaks could not be taken.
Hardman was given an absolute discharge on two offences and fined £100 on each of the other two. He was also ordered to pay £100 costs.
The hearing of charges alleging that a second Rodney Rudge driver, Graham Foster, of 95 Bellshill Road, Rochdale, had falsified a tachograph chart, had driven for four and a half hours without the required break, taken insufficient daily rest and had exceeded the daily driving limit, was adjourned until February