Ex-bosses of Cardiff create Interstate
10th February 1994
Page 10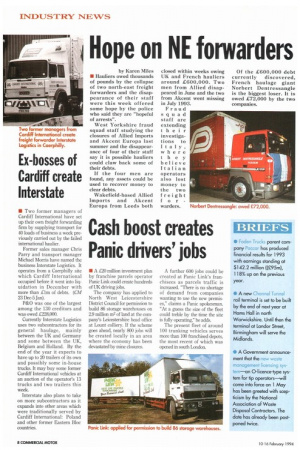 Page 10, 10th February 1994 —
Ex-bosses of Cardiff create Interstate
Close
• Two former managers of Cardiff International have set up their own freight forwarding firm by supplying transport for 40 loads of business a week previously carried out by the failed international haulier.
Former sales manager Chris Parry and transport manager Michael Morris have named the business Interstate Logistics. It operates from a Caerphilly site which Cardiff International occupied before it went into liquidation in December with more than Lim of debts. (CM 23 Dec-5 Jan).
P&O was one of the largest among the 130 creditors and was owed £228,000.
Currently Interstate Logistics uses two subcontractors for its general haulage, mainly between the UK and Germany and some between the UK, Belgium and Holland. By the end of the year it expects to have up to 20 trailers of its own and possibly some in-house trucks. It may buy some former Cardiff International vehicles at an auction of the operator's 13 trucks and two trailers this week.
Interstate also plans to take on more subcontractors as it expands into other areas which were traditionally served by Cardiff International: Poland and other former Eastern Bloc countries.