WAREHOUSING CAN BOOST HAULAGE
10th February 1961
Page 54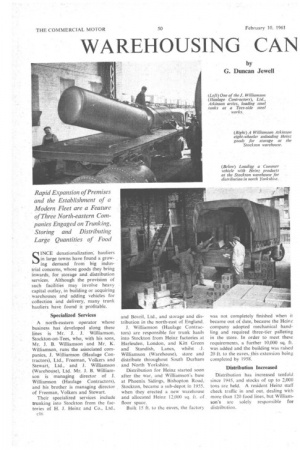 Page 55
Page 54, 10th February 1961 —
WAREHOUSING CAN BOOST HAULAGE
Close
Facilities for the Storage and Distribution of Customers' Goods, Although Likely to Involve Initial Heavy .Capital Outlay, Can Prove Profitable for the Trunk Haulier
by G. Duncan Jewell
Rapid Expansion ofPremises and the Establishment of a Modern Fleet are a Feature of Three North-eastern Companies Engaged on Trunking, • Storing and Distributing Large Quantities of Food
SINCE denationalization; hauliers in large towns have found a grow_ ing demand from big industrial concerns, whose goods they bring inwards, for storage and distribution services. Although the provision of such facilities may involve heavy capital outlay, in building or acquiring warehouses and adding vehicles for collection and delivery, many trunk 'hauliers have found it profitable.
Specialized Services A north-eastern operator whose business has developed along these lines is Mr. J. J. Williamson, Stockton-on-Tees, who, with his sons, Mr. J. B. Williamson and Mr. K. Williamson, runs the associated companies, J. Williamson (Haulage Contractors), Ltd., Freeman, Volkers and Stewart, Ltd., and J. Williamson (Warehouse), Ltd. Mr. J. B. Williamion is managing director of J. Williamson (Haulage Contractors), and his brother is managing director of Freeman, Volkers and Stewart.
Their specialized services include trunking into Stockton from the factories of H. J. Heinz and Co,, Ltd., and Bovril, Ltd., and storage and distribution in the north-east of England.
J. Williamson (Haulage Contractors) are responsible for trunk hauls into Stockton from Heinz factories at Harlesden, London. and Kitt Green and Standish, Lanes, whilst .J. Williamson (Warehouse), store and distribute throughout South Durham and North Yorkshire.
Distribution for Heinz started soon after the war, and Williamson's base at Phoenix Sidings, Bishopton Road, Stockton, became a sub-depot in 1955. when they erected a new warehouse and allocated Heinz 12,000 sq. ft. of floor space.
Built 15 ft. to the eaves, the factory was not completely finished when it became out of date, because the Heinz company adopted mechanical handling and required three-tier palleting in the store. in order to meet these requirements, a further 10,000 sq. ft. was added and the building was raised 20 ft. to the eaves, this extension being completed by 1958.
Distribution Increased
Distribution has increased tenfold since 1945, and stocks of up to 2,000 tons are held. A resident Heinz staff check traffic in and out, dealing with more than 120 food lines, but Williamson's are solely responsible for distribution, Because of fears of possible renationalization, the warehousing company was incorporated in 1958 with Mr. J. J. Williamson as managing director, the object being to keep this side of the business separate from long-distance haulage. More than £6,000 was spent on equipping the new warehouse with pallets and forklift trucks.
The fleet of 12 distribution vehicles has been standardized on Commer TS3 oilers, each with a covered carrying capacity of 600-700 Cu. ft. They operate under B or contract-A licences.
Berwick to Devon
The warehouse is also used as a store for Bovril, for whom the distribution is undertaken along the northeast coast from Berwick down to Hull. Trunk vehicles bring in tinned meat and other imports from Liverpool docks, meat and vegetable extracts from London, and sub-contractors fetch creamed rice from Devon.
Extensions which have now been completed include an office block and an additional 60-ft warehouse bay.
The fleet of J. Williamson (Haulage Contractors) consists of 12 vehicles, all on A licence. The Lanca
shire trunk service is operated by six Vehicles With a depot at Proctor Street, Bury, where half the vehicles are based. Two vehicles work the
London service nightly. Outward traffic consists mainly of .steel, with a small proportion of chemicals.
Freeman, Volkers and ,Stewart lit into the Group's 'activities by covering Tees-side generally and trunking
to the Midlands. Three or four vehicles are dispatched to Birmingham nightly:, This company operate 14 vehicles. .Eleven are under, A licence. two B and one contract-A:
During the past few years the Williamsons have tried various makes of long-distance vehicles with a view to eventual standardization, and have found Atkinson eight-wheelers and articulated outfits the most suitable for their needs.
The first Atkinson was purchased in 1954, and the two long-distance companies now have 11 Atkinson vehicles, totalling more than half of
their carrying capacity. The eightwheeled vehicles average 12-13 m.p.g. The companies are responsible for their own maintenance, and there is a four-year policy for vehicle replacement. Mr. J. J. Williamson started in haulage in 1925 with a Peerless carrying road and building materials. By 1947, he was operating more than 50 vehicles, half of which were articulated, with Scatnmell and Tasker semi-trailers. During this period, Mr. Williamson had almost a monopoly of the slag and tarmacadam trade in the area, and was hiring up to 40 vehicles a day.
Foreseeing nationalization, he bought the five-vehicle business of Freeman, Volkers and Stewart, then mainly engaged upon local work, just before his own business was taken over. • BY this means he was able to keep something in existence for his sons, who were in the Forces.
This venture was aided by his customers, who accepted a further five vehicles under C-hiring allowances, and provided, a nucleus to restart, in 1954, by supporting their transfer to A licence.
Steady Growth
Since then the business has grown steadily. The boom in steel and the general prosperity on Tees-side have resulted in an abundance of traffic and a demand for more transport.
Although there is plenty of outward traffic for all Tees-side hauliers. Mr. Williamson is not happy about the situation. He thinks that there is insufficient co-operation among operators to further their own interests. In one instance, after a number of independent hauliers had opposed each other at an inquiry into applications to carry steel, traffic which would have been available to all was lost.
• Ihe steel company concerned gave the work to an outsider under contract-A licence.
Low Rate for Steel
Another source of difficulty is the low rate for steel, aggravated by hauliers who will carry it as return loads at almost any price. The group are to some extent protected from the worst effects, as their main traffic is inward. The company specialize in storage and distribution of food. and the provision of all services required is a major policy.
The ability to offer a customer reliable long-distance transport and warehousing at the destination, followed by wholesale and retail distribution, allows manufacturers to clear stocks and saves valuable capital which might otherwise have to be spent in providing storage. The haulier who provides this type of service is assured of regular employment.