A Motorway to Nowhere
10th February 1961
Page 53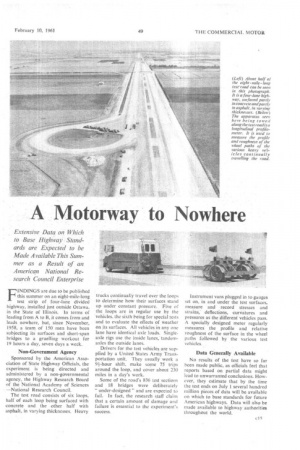 Page 53, 10th February 1961 —
A Motorway to Nowhere
Close
Extensive Daw on Which to Base Highway Standards are Expected to be Made Available This Summer as a Result of an American National Research Council Enterprise
FINDINGS are due to be published this summer on an eight-mile-long test strip of four-lane divided highway, installed just outside Ottawa, in the State of Illinois. In terms of leading from A to B, it comes from and leads nowhere, but, since November, 1958, a team of 150 men have been subjecting its surfaces and short-span bridges to a gruelling workout for 19 hours a day, seven days a week.
Non-Govenunent Agency .
Sponsored by the American Association of State Highway Officials, the experiment is being directed and administered by a non-governmental agency, the Highway Research Board of the National Academy of Sciences —National Research Council.
The test road consists of six loops, half of each loop being surfaced with concrete and the other half with asphalt, in varying thicknesses. Heavy trucks continually travel over the loops to determine how their surfaces stand up under constant pressure. Five of the loops are in regular use by the vehicles, the sixth being for special tests and to evaluate the effects of weather on its surfaces. All vehicles in any one lane have identical axle loads. Singleaxle rigs use the inside lanes, tandemaxles the outside lanes.
Drivers for the test vehicles are supplied by a United States Army Transportation unit. They usually work a 94--hour shift, make some 75 trips around the loop, and cover about 230 miles in a day's work.
Some of the road's 836 test sections and 18 bridges were deliberately " under-designed" and are expected to fail. In fact, the research staff claim that a certain amount of damage and failure is essential to the experiment's success.
Instrument vans plugged in to gauges set on, in and under the test surfaces, measure and record stresses and strains,' deflections, curvatures and pressures as.the different vehicles pass. A specially designed meter regularly measures the profile and relative roughness of the surface in the wheel paths followed by the various test vehicles.
Data Generally Available
No results of the test have so far been made public, as officials feel that reports based on partial data might lead to unwarranted conclusions. However, they estimate that by the time the test ends on July 1 several hundred million pieces of data will be available on which to base standards for future American highways. Data will also be made available to highway authorities throughout the world.