Vitafoam's Volume Transport
10th February 1961
Page 48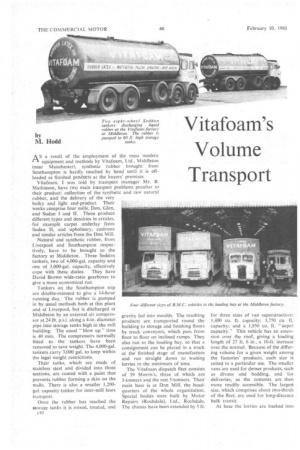 Page 49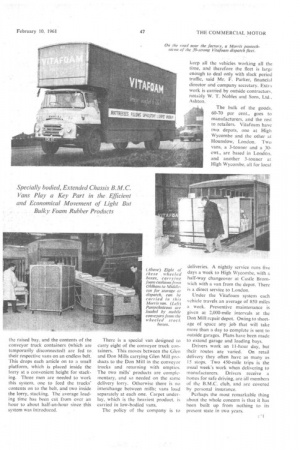 Page 48, 10th February 1961 —
Vitafoam's Volume Transport
Close
AS a result of the employment of the most modern equipment and methods by Vitafoam, Ltd., Middleton (near Manchester), synthetic rubber brought from Southampton is hardly touched by hand until it is offloaded as finished products at the buyers' premises.
Natural and synthetic rubber, from Liverpool and Southampton respectively, have to be brought to the factory at Middleton. Three Seddon tankers, two of 4;000-gal. capacity and one of 3,000-gal, capacity, effectively cope with these duties. They have David Brown wide-ratio gearboxes to give a more economical run.
Tankers on the Southampton trip are double-manned to give a 14.hout running day. The rubber is pumped in by usual methods both at this plant and at Liverpool, but is discharged at Middleton by an external air compressor at 24 lb. p.s.i. along a 4-in, diameter pipe into storage tanks high in the mill building. The usual "blow up" time is 40 min. The compressors normally fitted to the tankers have been removed to save weight. The 4,000-gal. tankers carry 3,000 gal, to keep within the legal weight restrictions.
Their tanks, which are made of stainless steel and divided into three sections, are coated with a paint that prevents rubber forming a skin on the walls. There is also a smaller 1,200gal. capacity tanker for inter-mill latex transport.
Once the rubber has reached the storage tanks it is mixed, treated, and cto gravity fed into moulds. The resulting products are transported round the building to storage and finishing floors by truck conveyors, which pass from floor to floor on inclined ramps. They also run to the loading bay, so that a consignment can be placed in a truck at the finished stage of manufacture and run straight down to waiting lorries in the minimum of time.
The Vitafoam dispatch fleet consists of 39 Morris's, three of which are 3-tonners and the rest 5-tonners. Their main base is at Don Mill, the headquarters of the whole organization. Special bodies were built by Motor Repairs (Rochdale), Ltd., Rochdale. The chassis have been extended by 5 ft. for three sizes of van superstructure: 4,400 Cu. ft. capacity; 1,750 cu. ft. capacity; and a 1,950 Cu. ft. "super capacity." This vehicle has an extension over the roof, giving a loading length of 27 ft. 6 in., a 10-ft. increase over the normal. Because of the differing volume for a given weight among the factories' products, each size is suited to a particular use. The smaller vans are used for denser products, such as divans and bedding, and for deliveries, as the contents are then more readily accessible. The largest size, which comprises about two-thirds of the fleet, are used for long-distance bulk transit.
At base the lorries are backed into the raised bay, and the contents of the conveyor truck containers (which are temporarily disconnected) are fed to their respective vans on an endless belt This drops each article on to a small platform, which is placed inside the lorry at a convenient height for stacking. Three men are needed to work this system, one to feed the trucks' contents on to the belt, and two inside the lorry, stacking. The average loading time has been cut from over an hour to about half-an-hour since this system was introduced.
There is a special van designed to carry eight of the conveyor truck containers. This moves between the Glen and Don Mills carrying Glen Mill products to the Don Mill in the conveyor trucks and returning with empties. The two mills' products are complementary. and so needed on the same delivery lorry. Otherwise there is no interchange between mills; vans load separately at each one. Carpet underlay, which is the heaviest product. is carried in low-bodied vans.
The policy of the company is to keep all the vehicles working all the time, and therefore the fleet is large enough to deal only with slack period traffic, said Mr. F. Parker. financial director and company secretary. Extra work is carried by outside contractors, notably W. T. Nobles and Sons, Ltd., Ashton.
The bulk of the goods, 60-70 per cent., goes to manufacturers, and the rest to retailers. Vitafoam have two depots, one at High Wycombe and the other at Hounslow, London. Two vans, a 3-tanner and a 30cwt., arc based in London, and another 3-tonner at High Wycombe, all for local
deliveries. A nightly service runs five days a week to High Wycombe, with a half-way changeover at Castle Bromwich with a van from the depot. There is a direct service to London.
Under the Vitafoam system each vehicle travels an average of 850 miles a week. Preventive maintenance is given at 2,000-mile intervals at the Don Mill repair depot. Owing to shortage of space any job that will take more than a day to complete is sent to outside garages. Plans have been made to extend garage and loading bays.
Drivers work an 11-hour day, but their routes are varied. On retail delivery they often have as many as 15 stops. Two 450-mile trips is the usual week's work when delivering to manufacturers. Drivers receive a bonus for safe driving, are all members of the B.M.C. club, and are covered by personal insurance.
Perhaps the most remarkable thing about the whole concern is that it has been built up from nothing to its present state in two years.