Rolls-Royce Order Redwing Fire Appliances
10th February 1961
Page 41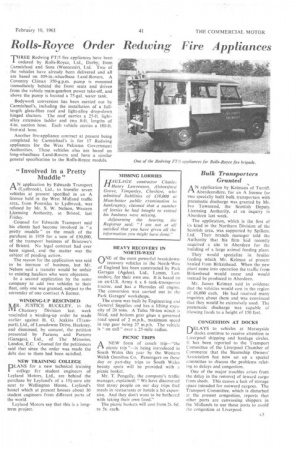 Page 41, 10th February 1961 —
Rolls-Royce Order Redwing Fire Appliances
Close
THREE Redwing FT/5 fire appliances have been Ordered by Rolls-Royce, Ltd., Derby, from Carmichael and Sons (VVorcester), Ltd. Two of . the vehicles have already been delivered and all are based on 109-in.-wheelbase Land-Rovers. A Coventry Climax 350-g.p.m. pump is mounted immediately behind the front scats and driven from the vehicle main-gearbox power take-off, and above the pump is located a 75-gal, water tank.
Bodywork conversion has been carried out by Carmichael's, including the installation of a fulllength glass-fibre roof and light-alloy drop-down hinged shutters. The roof carries a 25-ft. lightalloy extension ladder and two 8-ft, lengths of 4-in, suction hose. Each vehicle carries a 180-ft. first-aid hose.
Another fire-appliance contract at present being completed by Carmichael's is for 17 Redwing appliances for the West Pakistan Government Authorities. These vehicles also are based on long-wheelbase Land-Rovers and have a similar general specification to the Rolls-Royce models.
"Involved in a Pretty Muddle
A N application by Edwards Transport (Lydbrook), Ltd., to transfer seven vehicles at present specified in an A• licence held in the West Midland traffic area, from Pootrilas to Lydbrook, was refused by Mr. S. W. Nelson, Western Licensing Authority, at Bristol, last Friday.
Counsel for Edwards Transport said his clients had become involved in "a pretty muddle" as the result of the purchase in 1959 for a sum of £.30,000, of the transport business of Bristowe's of Bristol. No legal contract had ever been signed, and the matter was the subject of pending action.
The reason for the application was said to be increase of business, but Mr. Nelson said a transfer would be unfair • to existing hauliers who were objectors.
• In a second application by the same company to add two vehicles to their fleet, only one was granted, subject to the surrender of one contract A licence.
WINDING-UP RESCINDED AR. JUSTICE BUCKLEY, in the al Chancery Division last week rescinded a winding-up order he made earlier against H. G. Jeakins (Transport), Ltd., of Lansdowne Drive, Hackney. and dismissed, by consent, the petition presented by Parsons and Parsons (Garages), Ltd., of The Minories, London, E.C. Counsel for the petitioners said that since the order was made the debt due to them had been satisfied.
NEW TRAINING COLLEGE
PLANS for a new technical training college for student engineers of Leyland Motors, Ltd., are behind the purchase by Leyland's of a 151-acre site next to Wellington House, Leyland's hostel which at present houses about 30 student engineers from different parts of the world.
Leyland Motors say that this is a longterm project. HEAVY RECOVERY IN NORTH-WEST
ONE of the most powerful breakdownrecovery vehicles in the North-West of England has been constructed by Park Garages (Agden), Ltd., Lymm, Lancashire, for their own use. It is based on an ex-U.S. Army 6 x 6 tank-transporter tractor, and has a Hercules oil engine. The conversion was carried out in the Park Garages' workshops.
The crane was built by Engineering and General Supplies and has a lifting capacity of 20 tons. A Tulsa 50-ton winch is fitted, and bottom gear ghtes a governed road speed of 2 m.p.h., maximum speed in top gear being 37 m.p.h. The vehicle is "on call" over a 25-mile radius.
PICNIC TRIPS
I-1 A NEW form of coach trip—"the picnic trip "—is being introduced in South Wales this year by the Western Welsh Omnibus Co. Passengers on these day or part-day trips to South Wales beauty spots will be provided with a picnic basket.
Mr. T. Penaelly, the company's traffic manager, explained: "We have discovered that many people on our day trips find meals in restaurants or hotels a bit expensive. And they don't want to be bothered with taking their own food."
The picnic baskets will cost from 2s. 6d, to 5s. each.
Bulk Transporters Granted
AN application by Kelmans of Turriff, Aberdeenshire, for an A licence for two specially built bulk transporters with pneumatic discharge was granted by Mr. Ivo Townsend, the Scottish Deputy Licensing Authority, at an inquiry in Aberdeen last week.
The application, which is the first of its kind in the Northern Division of the Scottish area, was supported by Spillers, Ltd. Their branch manager told the Authoritythat -his firm had recently acquired a site in Aberdeen for the building of a large animal feeding plant.
They would specialize in• broiler feeding which Mr. Kelman at present hauled from Birkenhead. When the new plant came into operation the traffic from Birkenhead would cease and would instead be produced in Aberdeen.
Mr. James Kelman said in evidence that the vehicles would cost in the region of £6,000 each. He had received many inquiries about them and was convinced that they would be extensively used. The pneumatic discharge was capable of blowing foods to a height of 150 feet.
CONGESTION AT DOCKS
DELAYS to vehicles at Merseyside docks continue to receive attention in Liverpool shipping and haulage circles. It has been reported to the Transport Committee of the Liverpool Chamber of Commerce that the Steamship Owners' Association has now set up a special committee to discuss the problems relating to delays and congestion.
One of the major troubles arises from the delay in the removal of inward cargo from sheds. This causes a lack of storage space intended for outward cargoes. The Transport Committee, which is disturbed at the present congestion, reports that other ports are canvassing shippers in the Midlands to use those ports to avoid the congestion at Liverpool.