L.C.C. and London Transport Inquiry
10th February 1961
Page 36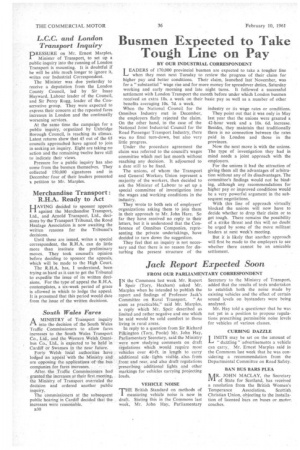 Page 36, 10th February 1961 —
L.C.C. and London Transport Inquiry
Close
DRESSURE on Mr. Ernest Marples,
Minister of Transport, to set up a public inquiry into the running of London Transport is mounting. It is doubtful if he will be able much longer to ignore it, writes our Industrial Correspondent.
The Minister was due yesterday to receive a deputation from the London County Council, led by Sir Isaac Hayward, Labour leader of the Council, and Sir Percy Rugg, leader of the Conservative group. They were expected to express their concern at the repeated fares increases in London and the continually worsening services.
At the same time the campaign for a public inquiry, organized by Uxbridge Borough Council, is reaching its climax. Latest returns show that 45 out of the 65 councils approached have agreed to join in seeking an inquiry. Eight are taking no action and the remaining twelve have still to indicate their views.
Pressure for a public inquiry has also come from the busmen themselves. They collected 150,000 signatures and in December four of their leaders presented st petition to Mr. Marples.