Jack Report Expected Soon
10th February 1961
Page 36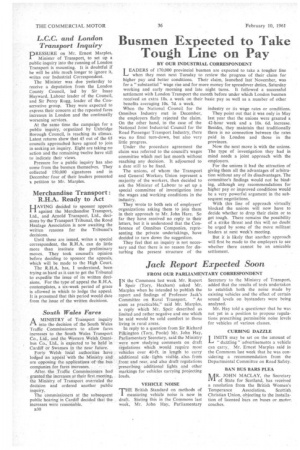 Page 36, 10th February 1961 —
Jack Report Expected Soon
Close
FROM OUR PARLIAMENTARY CORRESPONDENT TN the Commons last week Mr. Rupert Speir (Tory, Hexham) asked Mr. Marples when he intended to publish the report and findings of Professor Jack's Committee on Rural Transport. "As soon as practicable," said Mr. Marples, a reply which Mr. Speir described as limited and rather negative and one which he said would be cold comfort to those living in rural areas.
In reply to a question from Sir Richard Pilkington (Tory, Poole) Mr. John Hay, Parliamentary Secretary, said. the Ministry were now studying comments on draft regulations which would require most vehicles over 40-ft. in length to carry additional side lights visible also from ..front and rear, and also draft regulations prescribing additional lights and other markings for vehicles carrying projecting loads.
VEHICLE NOISE THE British Standard on methods of • measuring vehicle noise is now in draft. Stating this in the Commons last week, Mr. John Hay, Parliamentary Secretary to the Ministry of Transport, added that the results of tests undertaken to establish both the noise made by existing vehicles and the effect of certain sound levels on bystanders were being analysed.
Mr. Hay told a questioner that he was not yet in a position to propose regulations prescribing permissible noise levels for vehicles of various classes.
CURBING DAZZLE
T IMITS may be set on the amount of "dazzling" advertisements a vehicle can carry. Mr. Ernest Marples said in the Commons last week that he was considering a recommendation from the Departmental Committee on Road Safety.
BAN BUS BARS PLEA ARR. JOHN MACLAY, the Secretary In of State for Scotland, has received a resolution from the British Women's Temperance Association, Scottish Christian Union, objecting to the installation of licensed bars on buses or motor. coaches.