Busmen Expected to Take Tough Line on Pay
10th February 1961
Page 36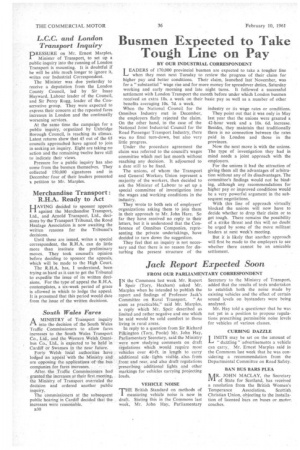 Page 36, 10th February 1961 —
Busmen Expected to Take Tough Line on Pay
Close
BY OUR INDUSTRIAL CORRESPONDENT EADERS of 170,000 provincial busmen are expected to take a tougher line L-e when they meet next Tuesday to review the progress of their claim for higher pay and better conditions. Their claim, launched last November, was for a " substantial " wage rise and for more money for spreadover duties, Saturday working and early morning and late night turns. It followed a successful settlement with London Transport the month before under which London busmen received an extra 18s. a week on their basic pay as well as a number of other benefits averaging 10s. 7d. a week.
When the National Council for the Omnibus Industry met in December, the employers flatly rejected the claim. On the other hand, in the case of the National Joint Industrial Council for the Road Passenger Transport Industry, there was no final turn-down, but also very little progress, Under the procedure agreement the claim was referred to the council's wages committee which met last month without reaching any decision. It adjourned to a date still to be fixed.
The unions, of whom the Transport and General Workers Union represent a majority of the workers, then decided to ask the Minister of Labour to set up a special committee of investigation into the wages and working conditions in the industry.
They wrote to both sets of employers' organizations asking them to join them in their approach to Mr. John Hare. So far they have received no reply to their letters, but it is understood that the Conference of Omnibus Companies, representing the private undertakings, have decided to turn down the suggestion.
They feel that an inquiry is not necessary and that there is no reason for disturbing the present structure of the industry or its wage rates or conditions.
They point out that it was only in May last year that the unions were granted a 42-hour week and a 10s. 6d. increase. Besides, they maintain that traditionally there is no connection between the rates paid in London and those in the provinces.
Now the next move is with the unions. The type of investigation they had in mind needs a joint approach with the employers.
For the unions it had the attraction of giving them all the advantages of arbitration without any of its disadvantages. The committee's findings would not be binding, although any recommendations for higher pay or improved conditions would be a very powerful argument in the subsequent negotiations.
With this line of approach virtually. blocked the unions will now have to decide whether to drop their claim or to get tough. There remains the possibility of a strike threat and this will no doubt be urged by some of the more militant leaders at next week's meeting.
But it is likely that another approach will first be made to the employers to see whether there cannot be an amicable settlement.