Bird's Eye View By The Hawk
10th February 1961
Page 34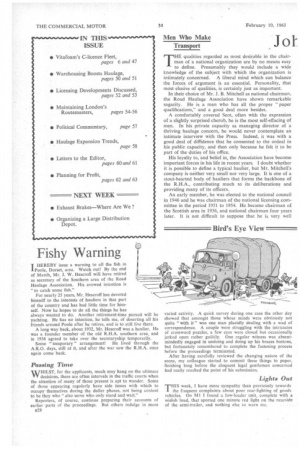 Page 35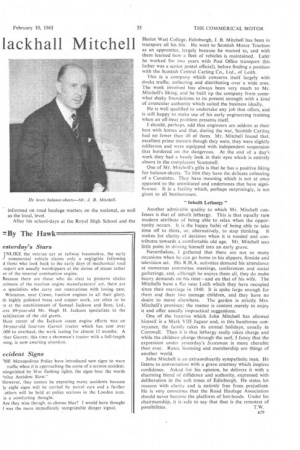 Page 34, 10th February 1961 —
Bird's Eye View By The Hawk
Close
Fishy Warning
T HEREBY issue a warning to all the fish in I-Poole, Dorset, area. Watch out! By the end of March, Mr. J. W. Hescroff will have retired as secretary of the Southern area of the Road Haulage Association. His avowed intention is "to catch some fish."
For nearly 25 years, Mr. Hescroff has devoted himself to the interests of hauliers in that part of the country and has had little time for himself. Now he hopes to do all the things he has always wanted to do. Another retirement-time pursuit will be yachting. He has no intention, he tells me, of deserting all his friends around Poole after he retires, and is to still live there.
A long way back, about 1932, Mr. Hescroff was a haulier. He was a founder member of the old R.H.A. southern area, and in 1936 agreed to take over the secretaryship temporarily.
Some " temporary " arrangement! He lived through the A.R.O. days, still at it, and after the war saw the R.H.A. once again come back.
Passing Time
WHILST, for the applicants, much may hang on the ultimate If V decisions, there are often intervals in the traffic courts when the attention of many of those present is apt to wander. Some of those appearing regularly have side issues with which to occupy themselves during the duller phases, not being content to be they who " also serve who only stand and wait." Reporters, of course, continue preparing their accounts of earlier parts of the proceedings. But others indulge in more B28 varied activity. A quick survey during one case the other day showed that amongst those whose minds were obviously not quite "with it" was one man placidly dealing with a wad of correspondence. A couple were struggling with the intricacies of crossword puzzles, a few eyes were closed but occasionally jerked open rather guiltily. One. regular witness was absentmindedly engaged in undoing and doing up his braces buttons, but fortunately remembered to complete the fastening process before the proceedings terminated.
After having carefully reviewed the changing nature of the scene, my colleague started to commit these things to paper, finishing long before the eloquent legal gentleman concerned had really reached the point of his submission.
Lights Out
THIS week, I have more sympathy than previously towards 1 the frequent complaints about poor rear-lighting of goods vehicles. On MI I found a low-loader unit, complete with a widish load, that sported one minute red light on the nearside of the semi-trailer, and nothing else to warn me.
esterday's Stars
TNLIKE the veteran car or railway locomotive, the early commercial vehicle claims only a negligible following d those who look back to the early days of mechanical road msport usually worshippers at the shrine of steam rather in of the internal combustion engine.
Because there are those who do elect to preserve choice 2cimens of the traction engine manufacturers' art, there are ,o specialists who carry out restorations with loving care. Wistaston, near Crewe, traction engines in all their glory, th highly polished brass and copper work, are often to be !ri at the establishment of Samuel Jackson and Sons, Ltd,, 'ere 69-year-old Mr. .Hugh H. Jackson specializes in the iabilitation of the old giants.
Most recent of the Jackson steam engine efforts was on 54-year-old four-ton Garrett tractor which has cost over ,000 to overhaul, the work lasting for almost 12 months. A -ther Garrett, this time a showman's tractor with a full-length ning, is now awaiting attention.
ccident Signs
HE Metropolitan Police have introduced new signs to warn traffic when it is approaching the scene of a serious accident. stinguished by blue flashing lights, the signs bear the words 'olice Accident Slow.
However, they .cannot be expecting many accidents because ly eight signs will be carried by patrol cars and a further others will be held at police stations in the London area. is a comforting thought.
Are they wise though, to choose blue? I would have thought I was the more immediately recognizable danger signal.