Routemaster in Service After Severe Tests
10th February 1956
Page 19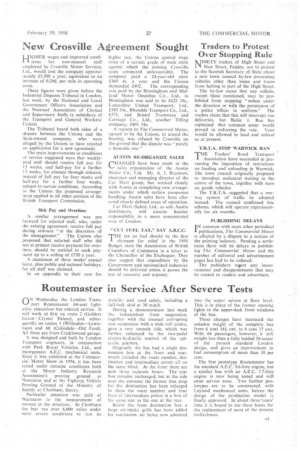 Page 19, 10th February 1956 —
Routemaster in Service After Severe Tests
Close
ONWednesday the London* -Transport Routemaster 64-seat lightalloy chassisless bus entered service. It will work at firg on route 2 (Golders Green—Crystal Palace), and subsequently on routes 1 (Willesden—Lewisham) and 60 (Colindale—Old Ford). All three are from Cricklewood garage.
It was designed and, built by London Transport engineers, in conjunction with Park Royal Vehicles, Ltd., and incorporates A.E.C. mechanical units. Since it was exhibited at the Commercial Motor Show in 1954, it has been tested under extreme conditions both at the Motor Industry Research Association's proving ground at Nuneaton and at the Fighting Vehicle' Proving Ground of the Ministry of Supply at Chobham, Surrey.
Particular attention was paid at Nuneaton to the measurement of stresses in the structure. At Chobham the bus ran over 6,000 miles under most severe conditions to test its stability and road safety, including a full-lock skid at 30 m.p.h.
During a demonstration last week the independent front suspension, together with the unusual coil-spring rear suspension with a wide roll centre, gave a very smooth ride, which was further enhanced by the two-pedal electro-hydraulic control of the epic).elic gearbox.
Originally the bus had a single destination box at the front and rear, which included the route number, destination and intermediate points all on the same blind. At the front there are now three separate boxes. The rear box remains unchanged, but at the side over the entrance the former thin strip for the destination has been enlarged to show the route number and four lines of intermediate points in a box of the same size as the one at the rear.
Below the front destination box a large air-intake grille has been added for ventilation, air beine now admitted into the upper saloon at floor level. This is in place of the former opening lights in the upper-deck front windows of the bus.
These changes have increased the unladen weight of the complete bus from 6 ton i 14icwt. to 6 tons 17 cwt. With 64 passengers, however, it still weighs less than a fully loaded 56-seater of the present standard London design, and gives an improvement in fuel consumption of more than 10 per cent.
The first prototype Routemaster has the standard A.E.C. 9.6-litre engine, but a similar bus with an A.E.C. 7.7-litre engine is now being tested and will enter service soon. Two further prototypes are to be constructed, with Leyland mechanical units, before the design of the production model is finally approved. In about three 'years' time it is hoped to use these buses for the replacement of most of the present trolley buses.