Scarce Assets—Not Money Hold Up Road Schemes
10th February 1956
Page 18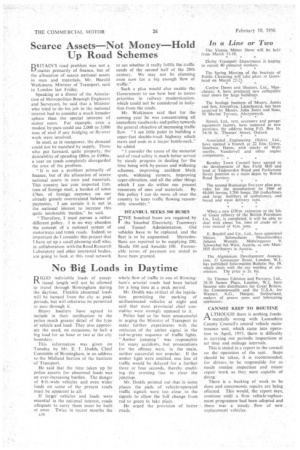 Page 18, 10th February 1956 —
Scarce Assets—Not Money Hold Up Road Schemes
Close
BRITA1N'S road problem was not a I-, matter primarily of finance, but of the allocation of scarce national assets in men and materials, Mr. Harold Watkinson, Minister of Transport, said in London last Friday.
Speaking at a dinner of the Association of Metropolitan Bogough Engineers and Surveyors, he said that a Minister who tried to do his job in the national interest had to consider a much broader sphere than the special interests of motor users. For example, even a modest by-pass could use 2,000 to 3,000 tons of steel if any bridging or fly-over work were involved..
In steel, as in manpower, the demand could not be matched by supply. Those who put forward, quite properly, the desirability of spending £130m. or £100m. a year on roads completely disregarded the crux of the problem.
"It is not a problem primarily of finance, but of the allocation of scarce national assets in men and materials. This country last year imported 14-m. tons of foreign steel, a burden of some £76m. of foreign currency on our already grossly overstrained balance of payments. I am certain it is not in the national interest to increase this quite intolerable burden," he said.
Therefore, 1 must pursue a rather different policy. I in no way abandon the concept of a national system of motorways and trunk roads. Indeed, so important do I consider this project that I have set up a small planning staff who, in collaboration with the Road Research Laboratory and other interested bodies, are going to look at this road network to see whether it really fulfils the traffic needs of the second half of the 20th century. We may not be planning even now for a big enough flow of traffic."
Such a plan would also enable the Government to see how best to assess priorities in railway moderni/ation, which could not be considered in isolation from the roads.
Mr. Watkinson said that for the coming year he was concentrating all immediate roadworks and policy towards the general objective of increasing traffic flow. "I see little point in building a super-fast double-track highway which starts and ends in a major bottle-neck," he added " I consider the cause of the motorist and of road safety is much better served by steady progress in dealing for the time being with by-passes and widening schemes. improving accident black spots, widening corners, improving super-elevation, and all the other things which I can do within our present resources of men and materials. By this policy I can do more all over the country to keep traflic flowing reasonably smoothly."
ISTANBUL SEEKS 500 BUSES L'IVE hundred buses are required by the Istanbul Electricity, Tramways and Tunnel Administration. 'Old vehicles have to be replaced, and the
fleet is to be augmented. MercedesBenz are reported to be supplying 200, Skoda 100 and Ansaldo 100. Favourable terms of payment are stated to have been granted.