No -Big Load
10th February 1956
Page 18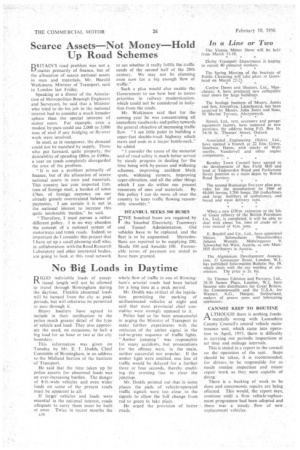 Page 18, 10th February 1956 —
No -Big Load
Close
s in Daytime
R1GID indivisible loads of exceptional length will not be allowed to travel through Birmingham during the daytime. Flexible abnormal loads will be banoed from the city at peak periods, but will otherwise be permitted to pass through it.
Heavy hauliers have agreed to include in their notification to the police much greater detail of the type of vehicle and load. They also appreciate the need, on occasions, to halt a big load for an hour or two at the city boundary.
This information was given on Tuesday by Mr. E. J. Dodds, Chief Constable of Birmingham. in an address to the Midland Section of the Institute of Transport.
He said that the time taken up by police escorts for abnormal loads was an ever-increasing burden. The danger of 8-ft.-wide vehicles and even wider loads on some of the present roads must be apparent to all.
If larger vehicles and loads were essential in the national interest, roads adequate to carry them must be built at once. Twice in recent months the A16
whole flow of traffic in one of Birmingham's arterial roads had been halted for a long time at a peak period.
Mr. Dodds was critical of the legislation permitting the parking of unilluminated vehicles at night and said that most provincial chief constables were strongly opposed to it.
Police had so far been unsuccessful. in urging the Minister of Transport to make further experiments with the omission of the amber signal in the red-to-green sequence of traffic lights. "Amber jumping was responsible for many accidents, but prosecutions for the offence were, in the main, neither successful nor popular. . If the amber light were omitted, one line of traffic would be delayed for a further three or four seconds, thereby enabling the crossing line to clear the junctiop.
Mr. Dodds pointed out that in some places the pads of vehicle-operated traffic signals were too close to the signals to allow the full change from red to green to take place.
He urged the provision of better roads.