In a Line or Two
10th February 1956
Page 18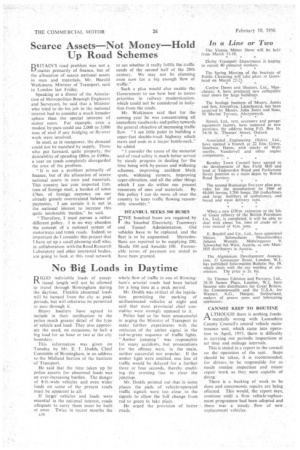 Page 18, 10th February 1956 —
In a Line or Two
Close
Keywords :
The Vienna Motor Show will be held from March 11-18.
Derby Transport Department is hoping' to recruit 40 coloured workers.
The Spring Meeting of the Institute of Public Cleansing will take place at Gateshead on March 22-23.
Curfew Doors and Shutters, Ltd.. Manchester, 4, have produced new collapsible steel doors for large buildings.
The haulage business of Messrs. James and Son, Gwynfryn, Llartrhystyd, has been acquired by Messrs. John Jones and Sons, 58 Marine Terrace, Aberystwyth.
Stevco, Ltd., tyre, accessory and garage equipment factors, have removed to new premises. the address being P.O. Box 16, 54-56 St. Thomas' Street, Oxford.
Associated Engineering (Sales), _,Ltd., have opened a branch at 22 Elm Grove, Southsca, Hants, with stocks of Wellworthy. Vanclervell and other engine components.
Burnley Town Council have agreed to the development of Spa Field Mill and land at Todmorden Road and Parliament Street junction as a main depot by British Road Services.
The second Rumanian five-year plan provides for the manufacture by 1960 of 48.000 lorries, 3,700 buses, 200 trolleybuses and large numbers of ambulances, and bread and meat delivery N,ans.
When a new £191m. extension to the Isle of Grain refinery of the British Petroleum Co., Ltd., is completed, it will be able to deal with about 7m. tons of crude oil •a year instead of 4m. tons.
E. Boydell and Co., Ltd., have appointed Messrs. Schweehater Maschinenbau Johann Wessely, Mohringgasse 9, Schwechat bei Wien. Austria. as sole MuirHill distributors in Austria.
The Aluminium Development Association, 33 Grosvenor Street, London, W.I, has published Information Bulletin No. 14. which deals with the arc welding of aluminium. The price is 2s. 60.
Sir Thomas Edelston and Partners, Ltd.. 28-30 Sussex Place, London, W.2. have become sole distributors for Great Britain, the Commonwealth and the U.S.A. for Wanner, A.G., Horgen. Switzerland, makers of grease guns and lubricating appliances.
CANNOT KEEP TO ROUTINE
A LTHOUGH there is nothing fundal—t mentally wrong with Lancashire County Council's central vehicle main
tenance unit, which came into operation in April, 1953, there is difficulty in carrying out periodic inspections at set time and mileage intervals.
This is stated in a report to the council on the operation of the unit. Steps should be taken, it is recommended, for drivers to be responsible for as
much routine inspection and minor repair work as they were capable of doing.
There is a backlog of work to be done and uneconomic repairs are being effected. This would, the report says, continue until a firm vehicle-replace
ment programme had been adopted and there was a steady flow of new replacement vehicles.