Men in the News
10th February 1956
Page 13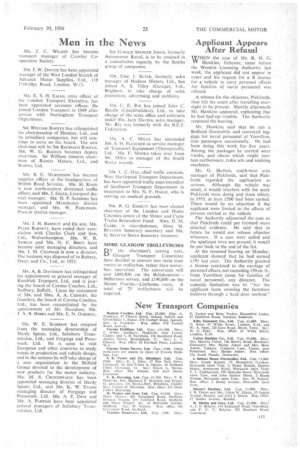 Page 13, 10th February 1956 —
Men in the News
Close
MR. J. C. WILSON has become transport manager of Crawley Cooperative Society.
MR. J. W. DWYER has been appointed manager of the West London branch of Advance Motor Supplies, Ltd., 119 Uxbridge Road, London, W.12.
Ma. E. S. H. EALES, Costs officer of the London Transport Executive, has been appointed accounts officer. He joined London Transport in 1949 after service with Nottingham Transport Department.
SIR WILLIAM ROOTES has relinquished his chairmanship of Humber, Ltd., and its subsidiary companies, but will continue to serve on the board. The new chairman will be SIR REGINALD ROOTES. MR. W. G. ROOTES becomes deputy chairman. Sir William remains chairman of Rootes Motors, Ltd., and Rootes, Ltd.
MR. B. E. I'vtuactusoN-has become supplies officer at the headquarters of 'British Road Services. MR. H. KNOX is now north-eastern divisional traffic officer, and MR. J. GILES, Liverpool district manager. MR. H. P. SANDERS has been appointed Manchester district manager, and MR. W. PARKINSON, Preston district manager.
MR. J. H. BARNETT and his son, MR. PE l'ER BARNETT, have ended their association with Charles Clark and Son, Ltd., Wolverhampton. MR. W. B. SIOKES and MR. N. F. BRICE have become joint managing directors, and MR. J. M. CtiarviAN is now a director. The business w,as disposed of to Rubery, Owen and Co., Ltd., in 1953.
Ma. A. B. DAVIDSON has relinquished his appointment as general manager of Kendrick Transport, Ltd., and is joining the board of Corona Coaches, Ltd., Sudbury, Suffolk. Upon the retirement of MR. and MRS. A. A. CHINERY, the founders, the board of Corona Coaches, Ltd., has been reconstituted by the appointment of Mr. Davidson, MR. J. A. B. HIBBS and MR. E. N. OSBORNE.
MR. W. E. SPARROW has resigned from the managing directorship of Hardy Spicer, Ltd., Salisbury Transmission, Ltd., and Forgings and Presswork, Ltd. He is soon to visit European and other countries to study trends in production and vehicle design, and in the autumn he will take charge of a new organization in the Birfield Group devoted to the development of new products for the motor industry. MR. M. S. CROSIHWAITE has been appointed managing director of Hardy Spicer, Ltd., and MR. K. W.' EvANs managing director of Forgings and Presswork, Ltd. MR. A. E. DEW and MR. A. PARRISH have been appointed general managers of Salisbury Transmission, Ltd.
SIR HAROLD SPENCER JONES, formerly Astronomer Royal, is to be retained in a consultative capacity by the Smiths group of companies.
MR. ERIC J. SUTER, formerly sales manager of Hudson Motors, Ltd., has joined A. S. Tilley (Garage), Ltd., Brighton. to take charge of sales promotion, advertising and publicity.
Ma. C. E. Rix has joined John C. Beadle (Coachbuilders), Ltd., to take charge of the sales office and contracts under MR. JACK DAvirs, sales manager. Mr. Rix was formerly with the B.E.T. Federation.
Ma. A. C. MILES has succeeded MR. S. H. FLETCHER as service manager of Transport Equipment (Thornycroft), Ltd. Ma. F. Maws •takes over from Mr. Miles as manager of the South Wales branch.
MR. L. C. Oak., chief traffic assistant, West Hartlepool Transport Department, has been appointed traffic superintendent of Southport Transport Department in succession to MR, N. F. ..HAicir, who is retiring on medical grounds.
MR. R. G. EisinfErr has been "elected chairman of the London and Home Counties centre of the Motor and Cycle Trades Benevolent Fund. MRS. D. M. CLARK is vice-chairman, Miss M. 13tritnFai honorary secretary and MR. G. SELWYN SktrItt honorary treasurer.
MORE GLASGOW TROLLEYBUSES
BY the chairman's casting vote, Glasgow Transport Committee have decided to convert two main tram routes to trolleybus, rather than motorbus. operation. The conversion will cost £490.850 on the BellahoustonMillerston service, and £190,800 on the Mount Florida—Linthouse route. A total of 75 trolleybuses will be required.
Applicant Appears After Refusal
NIVHEN the case of Mr. R. H. G.. Hawkins, Ilchester, came before the Western Licensing Authority last week, the applicant did not appear in court and his request for a B licence for a vehicle to carry personal effects for families of naval personnel was refused.
A witness for the objectors, Pickfords, then left the court after travelling overnight to be present. Shortly afterwards Mr. Hawkins appeared, explaining that he had had car trouble. The Authority reopened the hearing.
Mr. Hawkins said that he ran a Bedford Dormobile and conveyed luggage for naval personnel at Yeovilton, also passengers occasionally. He had been doing this work for five years. Among the packages he carried were trunks, and chests which might contain earthenware, radio sets and washing machines.
Mr. G. Skelton, south-west area manager of Pickfords, said that Pickfords regarded the application as serious. Although the vehicle was small, it would interfere with the work Pickfords were doing and from which, in 1955, at least 1500 had been earned. There would be no objection if the applicant were limited to the effects of persons carried in the vehicle.
The Authority adjourned the case so that Pickfords could put forward more detailed evidence. He said that in future he would not release objector witnesses. If a case were called and the applicant were not present, it would he put back to the, end of the list.
At the resumed hearing on Monday. applicant showed that he had earned £391 last year. The Authority granted a licence restricted to the carriage or personal effects, not exceeding 150 cu. ft.. from Yeovilton camp for families of naval personnel, any distance. The capacity limitation was to "bar the applicant from entering the furniture business through a back-door method."
Tags
People
:
H. P. SANDERS
,
D. M. CLARK
,
E. N. OSBORNE
,
J. C. WILSON
,
N. F. BRICE
,
W. G. ROOTES
,
A. PARRISH
,
WILLIAM ROOTES
,
ERIC J. SUTER
,
A. E. DEW
,
C. E. Rix
,
S. H. EALES
,
S. H. FLETCHER
,
B. DAVIDSON
,
W. PARKINSON
,
Appears After
,
M. S. CROSIHWAITE
,
W. B. SIOKES
,
A. A. CHINERY
,
W. E. SPARROW
,
REGINALD ROOTES
,
H. KNOX
,
J. W. DWYER
,
J. GILES
,
HAROLD SPENCER JONES
,
G. SELWYN
,
J. H. BARNETT
,
G. Skelton
,
C. MILES
,
L. C. Oak