SMALL CUT IN B.R.S. FLEET POSSIBLE: BILL DEBATED
10th February 1956
Page 11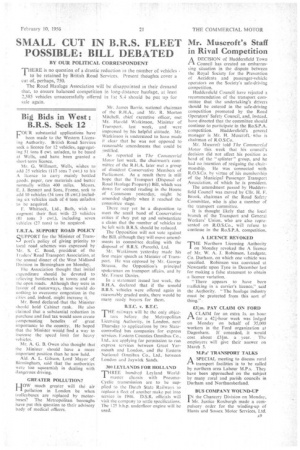 Page 11, 10th February 1956 —
SMALL CUT IN B.R.S. FLEET POSSIBLE: BILL DEBATED
Close
BY OUR POLITICAL CORRESPONDENT
THERE is no question of a drastic reduction in the number of vehicles to be retained by British Road Services. Present thoughts cover a cut of, perhaps, 750.
The Road Haulage Association will be disappointed in their demand that, to ensure balanced competition in long-distance haulage, at least 2,585 vehicles unsuccessfully offered in list 5.4 should be put up for sale again.
Big Bids in West : B.R.S. Seek 12 L'OUR substantial applications have L been made to the Western Licensing Authority. British Road Services seek a licence for 12 vehicles, aggregating 51 tons 8 cwt. unladen, to be based at Wells, and have been granted a short-term licence.
Mr. G. Willmott, Wells, wishes to add 25 vehicles (117 tons 7 cwt.) to his A licence to carry mainly bottled goods, paper, raw materials-and butter normally within 400 miles. Messrs. E. J. Bennett and Sons, Frome, seek to add 10 vehicles (34 tons 18 cwt.) including six vehicles each of 4 tons unladen to be acquired.
F. Whittock, Ltd., Bath, wish to augment their fleet with 23 vehicles (81 tons 3 cwt.), including seven vehicles (27 tons) to be acquired.
'F.R.T.A. SUPPORT ROAD POLICY QUPPORT for the Minister of Transs---) port's policy of giving priority to focal road. schemes was expressed by Mr. S. C. Bond, president of the 1 ratters' Road Transport Association, at he annual dinner of the West Midland Division in Birmingham on Monday.
The Association thought that initial expenditure should. be devoted to relieving bottlenecks in towns and on he open roads. Although they were in favour of motorways, these would do nothing to overcome congestion in the cities and, indeed, might increase it Mr. Bond declared-that the Ministershotild hold Cabinet rank. He also claimed that a substantial reduction in purchase and fuel tax would soon create
compensating benefits. of . great importance to the country. He hoped that the Minister would find a way to increase the speed limit for heavy vehicles.
Mr. A. G. B. Owen also thought that the Minister should have a more important position than he now held.
Ald. A, L. Gibson, Lord Mayor of Birmingham, said that the authorities were too squeamish in dealing with dangerous driving.
GREATER POLLUTION?
HOW much greater will the air pollution in London be when trolleybuses are replaced by motorbuses? The Metropolitan boroughs have put this question to their advisory body of medical officers.
Mr. James Barrie, national chairman of the R.H.A., and Mr. R. Morton Mitchell. chief executive officer, met Mr. Harold Watkinson, Minister of Transport, last week, . and were impressed by his helpful attitude. Mr. Watkinson is understood to have made it clear that he was not opposed to reasonable amendments that could be justified.
As reported in The Commercial Motor last week, the chairman's committee of the R.H.A. later met a group of dissident Conservative Members of Parliament. As a result there is still hope that the Transport (Disposal of Road Haulage Property) Bill, which was down for second reading in the House of Commons yesterday, might be amended slightly when it reached the committee stage.
There may yet be a disposition to meet the small band of Conservative critics if they put up and substantiate a claim that the number of vehicles to be left with B.R.S. should be reduced.
The Opposition will not vote against the Bill, although they will move amendments in committee dealing with the disposal of B.R.S. (Parcels), Ltd.
Mr. Watkinson yesterday made his first major speech as Minister of Transport. He was opposed by Mr. George Strauss, the Opposition's principal spokesman on transport affairs, and by Mr. Ernest Davies.
In a statement issued last week, the R.H.A. declared that if the unsold B.R.S. vehicles were offered again in reasonably graded units, there would be many ready buyers for them.
B.T.C. v. B.T.C.
THE railways will be the only objectors before the Metropolitan Licensing Authority, in London, next Thursday to applications by two Statecontrolled bus c.ompanies for express services. Eastern Counties Omnibus Co., Ltd., are applying for permission to run express services between Great Yarmouth and London, and the Eastern. National Omnibus Co., Ltd.; between London and .laywick Sands.
300 LEYLANDS FOR HOLLAND
TFIREE hundred Leyland Worldmaster chassis with PneumoCyclic transmission are to be supplied to the Dutch State Railways to replace a fleet of another make put into service in 1946. D.S.R. officials will visit the company to settle specifications. The 125 b.h.p. underfloor engine will be used. Mr. Museroft's Staff in Rival Competition /' DECISION of Huddersfield Town 1-11. Council has created an embarrassing situation in the dispute between the Royal Society for the Prevention of Accidents and passenger-vehicle operators on the Society's safe-driving competition.
Huddersfield Council have rejected a recommendation of the transport committee that the undertaking's drivers should be entered in the safe-driving competition promoted by the Road Operators' Safety Council. and, instead, have directed that the committee should continue to participate in the Ro.S.P.A. competition. Huddersfield's general manager is Mr. H. Muscroft.who is chairman of R.O.S.Co.
Mr. Muscroft told The Commercial Motor this week that his council's decision did not affect his position as head of the " splinter " group, and he had no intention of resigning the chairmanship. He was connected with R.O.S.Co. by virtue of his membership of the Municipal Passenger Transport Association, of which he is president.
The amendment passed by Huddersfield Council was moved by Cllr. H. F. Brook, chairman of the Road Safety Committee, who is also a member of the transport committee.
It is thought likely that the local branch of the Transport and General Workers' Union, who are also represented on R.O.S.Co., will refuse to continue in the Ro.S.P.A. competition.
A LICENCE REVOKED
THE Northern Licensing Authority on Monday revoked the A licence of Mr. W. A. J. Robinson, Leadgate, Co. Durham, on which one vehicle was specified. Robinson was convicted at Newcastle upon Tyne in December last for making a false statement to obtain a licence variation.
There appears to have been trafficking in a carrier's licence," said the Authority. "The haulage industry must be protected from this sort of thing."
131m. PAY CLAIM ON FORD A CLAIM for an extra Is. an hour for a 421-hour week was lodged on Monday on behalf of 35,000 workers in the Ford organization at Dagenham. If conceded, it would cost about 131m. a year. Th.employers will give their answer on Mareb 5.
M.P.s' TRANSPORT TALKS
A SPECIAL meeting to discuss rural
transport facilities is to be called by northern area Labour M.P.s. They have been approached on the subject by many rural and parish councils in Durham and Northumberland.
BUS COMPANY WOUND-UP
IN the Chancery Division on Monday, Mr. Justice Roxburgh made a compulsory order for the winding-up of Hants and Sussex Motor Services, Ltd.
Tags
Organisations
:
HE Northern Licensing Authority
,
Western Licensing Authority
,
Road Safety Committee
,
Metropolitan Licensing Authority
,
Municipal Passenger Transport Association
,
Road Haulage Association
,
Transport and General Workers' Union
,
Royal Society for the Prevention of Accidents
,
House of Commons
,
Huddersfield Council
,
West Midland Division in Birmingham
,
Chancery Division
,
Road Operators' Safety Council
,
Road Transport Association
People
:
Ernest Davies
,
James Barrie
,
G. Willmott
,
H. Muscroft
,
BILL DEBATED
,
S. C. Bond
,
J. Robinson
,
George Strauss
,
Museroft
,
R. Morton Mitchell
,
H. F. Brook
,
Harold Watkinson