Audible warning
10th December 1971
Page 62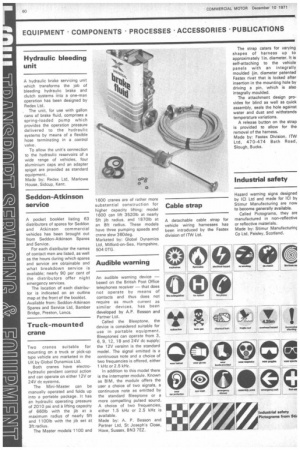 Page 62, 10th December 1971 —
Audible warning
Close
An audible warning device — based on the British Post Office telephones receiver — that does not operate by means of contacts and thus does not require as much current as similar devices, has been developed by A.P. Besson and Partner Ltd.
Called the Bleeptone, the device is considered suitable for use in portable equipment. Bleeptones can operate from 3, 6, 9, 12, 18 and 24V dc supply: the 12V versinn is the standard model. The signal emitted is a continuous note and a choice of two frequencies is offered, either 1 kHz or 2.5 kHz.
In addition to this model there is the interrupter module. Known as BIM, the module offers the user a choice of two signals, a continuous note as emitted by the standard Bleeptone or a more compelling pulsed sound. A choice of two frequencies, either 1.5 kHz or 2.5 kHz is available.
Made by: A. P. Besson and Partner Ltd, St Joseph's Close, Hove, Sussex, BN3 7EZ.