keeping them running
10th December 1971
Page 61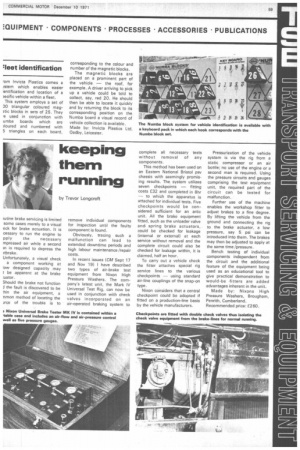 Page 61, 10th December 1971 —
keeping them running
Close
by Trevor Longcroft iutine brake servicing is limited some cases merely to a visual eck for brake actuation. It is cessary to run the engine to PPIY the necessary mpressed air while a second In is required to depress the >tbrake.
Unfortunately, a visual check a component working at low designed capacity may t be apparent at the brake :uator.
Should the brake not function I the fault is discovered to be :hin the air equipment, a nmon method of locating the irce of the trouble is to remove individual components for inspection until the faulty component is found.
Obviously, tracing such a malfunction can lead to extended downtime periods and high labour maintenance /repair costs.
In recent issues (CM Sept 17 and Nov 19) I have described two types of air-brake test equipment from Nixon High Pressure Washers. The company's latest unit, the Mark IV Universal Test Rig, can now be used in conjunction with check valves incorporated on an air-operated braking system to complete all necessary tests without removal of any components.
This method has been used on an Eastern National Bristol psv chassis with seemingly promising results. The system utilizes seven checkpoints — fitting costs £32 and completed in 8hr — to which the apparatus is attached for individual tests. Five checkpoints would be considered sufficient for an artic unit. All the brake equipment fitted, such as the unloader valve andspring brake actuators. could be checked for leakage (internal or external) at each service without removal and the complete circuit could also be checked for leakage within, it is claimed, half an hour.
To carry out a vehicle check the fitter attaches special rig service lines to the various checkpoints — using standard air-line couplings of the snap-on type.
Nixon considers that a central checkpoint could be adopted if fitted on a production-line basis by the vehicle manufacturers. Pressurization of the vehicle system is via the rig from a static compressor or an air bottle; no use of the engine or a second man is required. Using the pressure circuits and gauges comprising the test equipment unit, the required part of the circuit can be tested for malfunction.
Further use of the machine enables the workshop fitter to adjust brakes to a fine degree. By lifting the vehicle from the ground and connecting the rig to the brake actuator, a low pressure, say 5 psi can be introduced into them. The brakes may then be adjusted to apply at the same time /pressure.
Bench testing of individual components independent from the circuit and the additional feature of the equipment being used as an educational tool to give practical demonstration to would-be .fitters are added advantages inherent in the unit.
Made by: Nixons High Pressure Washers, Brougham, Penrith, Cumberland.
Recommended price: £260.