Service group
10th December 1971
Page 60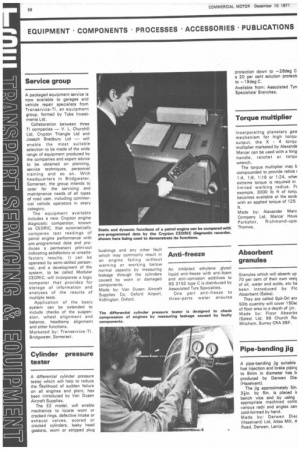 Page 60, 10th December 1971 —
Service group
Close
A packaged equipment service is now available to garages and vehicle repair specialists from Transervice-TI, an equipment group, formed by Tube Investments Ltd.
Collaboration between three TI companies — V. L. Churchill Ltd, Crypton Triangle Ltd and Joseph Bradbury Ltd — will enable the most suitable selection to be made of the wide range of equipment produced by the companies and expert advice to be obtained on planning, service techniques, personnel training and so on. With headquarters in Bridgwater. Somerset, the group intends to cater for the servicing and maintenance needs of all types of road user, including commercial vehicle operators in every category.
The equipment available includes a new Crypton engine diagnostic comparator, known as CEDRIC, that automatically compares test readings of petrol engine performance with pre-programmed data and produces a permanent print-out indicating satisfactory or unsatisfactory results. It can be operated by semi-skilled personnel, and a development of the system, to be called Modular CEDRIC, will incorporate a logic computer that provides for storage of information and analyses of the results of multiple tests.
Application of the basic system can be extended to include checks of the suspension, wheel alignment and balance, headlamp alignment and other functions.
Marketed by: Transervice-TI, Bridgwater, Somerset.