know the law
10th December 1971
Page 58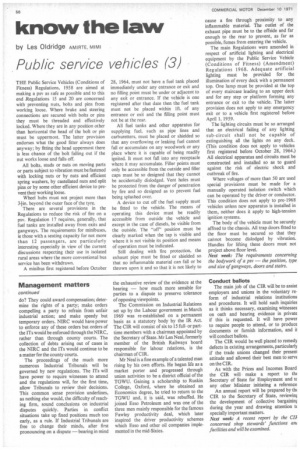 Page 58, 10th December 1971 —
know the law
Close
by Les Oldi-idge AMIRTE, MIMI
Public service vehicles (3)
THE Public Service Vehicles (Conditions of Fitness) Regulations, 1958 are aimed at making a psv as safe as possible and to this end Regulations 15 and 20 are concerned with preventing nuts, bolts and pins from working loose. Where brake and steering connections are secured with bolts or pins they must be threaded and effectively locked. Where they are in any position other than horizontal the head of the bolt or pin must be uppermost. The latter provision endorses what the good fitter always does anyway; by fitting the head uppermost there is less chance of the bolt falling out if the nut works loose and falls off.
All bolts, studs or nuts on moving parts or parts subject to vibration must be fastened with locking nuts or by nuts and efficient spring washers, by castellated nuts and split pins or by some other efficient device to prevent their working loose.
Wheel hubs must not project more than 3÷in. beyond the outer face of the tyre.
There are several provisions in the Regulations to reduce the risk of fire on a psv. Regulation 17 requires, generally, that fuel tanks are installed away from exits and gangways. The requirements for minibuses, ie those with a seating capacity for not more than 12 passengers, are particularly interesting especially in view of the current discussions respecting their use in isolated rural areas where the more conventional bus service has been withdrawn.
A minibus first registered before October 28, 1964, must not have a fuel tank placed immediately under any entrance or exit and no filling point must be under or adjacent to any exit or entrance. If the vehicle is one registered after that date then the fuel tank must not be placed within 1ft. of any entrance or exit and the filling point must not be at the rear.
All fuel tanks and other apparatus for supplying fuel, such as pipe lines and carburetters, must be placed or shielded so that any overflowing or leaking fuel cannot fall or accumulate on any woodwork or any place where it is capable of being readily ignited. It must not fall into any receptacle where it may accumulate. Filler points must only be accessible from the outside and filler caps must be so designed that they cannot be accidentally dislodged. Vent holes must be protected from the danger of penetration by fire and so designed as to prevent fuel being splashed over.
A device to cut off the fuel supply must be fitted to the vehicle. The means of operating this device must be readily accessible from outside the vehicle and except in the case of diesels, be visible from the outside. The "off" position must be clearly marked when the tap is visible and where it is not visible its position and means of operation must be indicated.
Still dealing with fire protection, the exhaust pipe must be fitted or shielded so that no inflammable material can fall or be thrown upon it and so that it is not likely to cause a fire through proximity to any inflammable material. The outlet of the exhaust pipe must be to the offside and far enough to the rear to prevent, as far as possible, fumes from entering the vehicle.
The main Regulations were amended in respect of artificial lighting and electrical equipment by the Public Service Vehicle (Conditions of Fitness) (Amendment) Regulations 1968. Adequate artificial lighting must be provided for the illumination of every deck with a permanent top. One lamp must be provided at the top of every staircase leading to an upper deck and for any step or platform forming any entrance or exit to the vehicle. The latter provision does not apply to any emergency exit or to a vehicle first registered before April 1, 1959.
The lighting circuits must be so arranged that an electrical failing of any lighting sub-circuit shall not be capable of extinguishing all the lights on any deck. (This condition does not apply to vehicles first registered before October 28, 1964.) All electrical apparatus and circuits must be constructed and installed so as to guard against the risk of electric shock and outbreak of fire.
Where voltages of more than 50 are used special provisions must be made for a manually operated isolation switch which can be operated by the driver or conductor. This condition does not apply to pre-I968 vehicles unless new apparatus is installed in them, neither does it apply to high-tension ignition systems.
The body of the vehicle must be securely affixed to the chassis. All trap doors fitted to the floor must be secured so that they cannot become dislodged by vibration. Handles for lifting these doors must not project above floor level.
Next week: The requirements concerning the bodywork of a psv — the position, type and size of gangways, doors and stairs.