Q Would you clarify the position regard ing "depreciation" with
10th December 1971
Page 56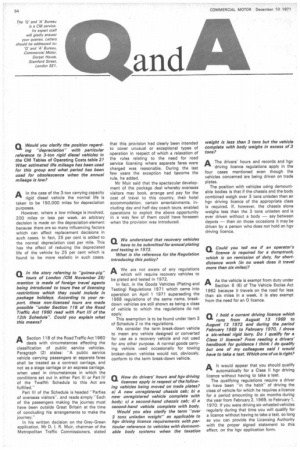 Page 56, 10th December 1971 —
Q Would you clarify the position regard ing "depreciation" with
Close
particular reference to 3-ton rigid diesel vehicles in the CM Tables of Operating Costs table 2? What estimated life mileage has been used for this group and what period has been used for obsolescence when the annual mileage is low?
AIn the case of the 3-ton carrying capacity rigid diesel vehicle the normal life is taken to be 150.000 miles for depreciation purposes.
However, where a low mileage is involved, 200 miles or less per week, an arbitrary decision is made on the depreciation element because there are so many influencing factors which can affect replacement decisions in such cases. In fact, 25 per cent is added to the normal depreciation cost per mile. This has the effect of reducing the depreciated life of the vehicle by 25 per cent which is found to be more realistic in such cases.