Q How do drivers' hours and hgv driving
10th December 1971
Page 56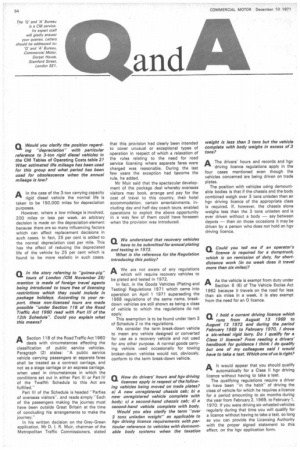 Page 56, 10th December 1971 —
Q How do drivers' hours and hgv driving
Close
licences apply in respect of the following vehicles being moved on trade plates? a) A new unregistered chassis cab; b) a new unregistered vehicle complete with body; c) a second-hand chassis cab; d) a second-hand vehicle complete with body.
Would you also clarify the term "over 3 tons unladen weight" as applicable to hgv driving licence requirements with particular reference to vehicles with demountable body systems when the taxation weight is less than 3 tons but the vehicle complete with body weighs in excess of 3 tons?
AThe drivers' hours and records and hgv
driving licence regulations apply in the four cases mentioned even though the vehicles concerned are being driven on trade plates.
The position with vehicles using demountable bodies is that if the chassis and the body combined weigh over 3 tons unladen then an hgv driving licence of the appropriate class is required. lf, however, the chassis alone weighs less than the 3 tons unladen and is ever driven without a body — say between depots — then on those occasions it may be driven by a person who does not hold an hgv driving licence.