Cl In the story referring to "guinea-pig"
10th December 1971
Page 56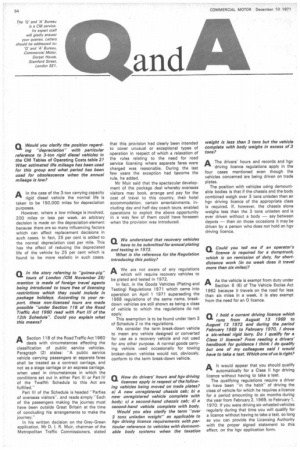 Page 56, 10th December 1971 —
Cl In the story referring to "guinea-pig"
Close
tours of London (CM November 26) mention is made of foreign travel agents being introduced to tours free of licensing restrictions which they could include in package holidays. According to your report, these non-licensed tours are made possible "under Section 118 of the Road Traffic Act 1960 read with Part III of the 12th Schedule". Could you explain what this means?
A Section 118 of the Road Traffic Act 1960
deals with circumstances affecting the classification of public service vehicles. Paragraph (21 states: "A public service vehicle carrying passengers at separate fares shall be treated as a contract carriage, and not as a stage carriage or an express carriage. when used in circumstances in which the conditions set out in either Part III or Part IV of the Twelfth Schedule to this Act are fulfilled."
Part III of the Schedule is headed "Parties of overseas visitors", and reads simply "Each of the passengers making the journey must have been outside Great Britain at the time of concluding his arrangements to make the journey."
In his written decision on the Grey-Green application, Mr D. I. R. Muir, chairman of the Metropolitan Traffic Commissioners, stated that this provision had clearly been intended to cover unusual or exceptional types of operation in respect of which a relaxation of the rules relating to the need for road service licensing where separate fares were charged was reasonable. During the last few years the exception had become the rule, he added.
Mr Muir said that the spectacular development of the package deal whereby overseas visitors may book, arrange and pay for the cost of travel to this country, their hotel accommodation, certain entertainments, including day and half-day coach tours, enabled operations to exploit the above opportunity in a way few of them could have foreseen when the provision was introduced.