bird's eye
10th December 1971
Page 49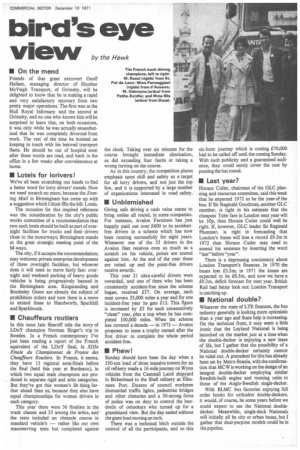 Page 50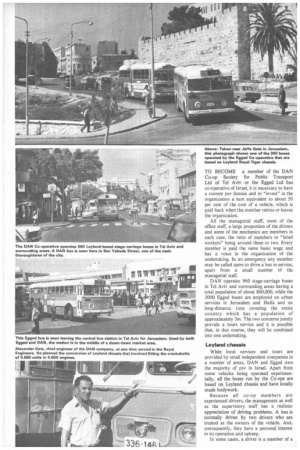 Page 49, 10th December 1971 —
bird's eye
Close
view by the Hawk • On the mend
Friends of that great extrovert Geoff Hallam, managing director of Humber McVeigh Transport, of Grimsby, will be delighted to know that he is making a rapid and very satisfactory recovery from two pretty major operations. The first was at the Hull Royal Infirmary and the second at Grimsby, and no one who knows him will be surprised to learn that, on both occasions, it was only while he was actually anaesthetized that he was completely divorced from work. The rest of the time he insisted on keeping in touch with his beloved transport fleets. He should be out of hospital soon after these words are read, and back in the office in a few weeks after convalescence at home.
• Lotels for lorivers!
We've all been scratching our heads to find a better word for lorry drivers' motels. Now we need scratch no more, because the Evening Mail in Birmingham has come up with a suggestion which I think fills the bill: Lotels.
The occasion for this inspired reference was the consideration by the city's public works committee of a recommendation that two such lotels should be built as part of overnight facilities for trucks and their drivers close to the motorways; Birmingham stands at the great strategic meeting point of the M-ways.
The city, if it accepts the recommendation; may welcome private enterprise development of these overnight facilities, but whoever does it will need to move fairly fast: overnight and weekend parking of heavy goods vehicles is being progressively banned in the Birmingham area. Kingstanding and Bordesley Green are already the subject of prohibition orders and now there is a move to extend these to Handworth, Sparkhill and Sparkbrook.
• Chauffeurs routiers In this issue lain Sherriff tells the story of LDoY champion Norman Singer's trip to Sweden. In a French contemporary I've just been reading a report of the French equivalent of the LDoY final, la Mlle Finale du Championnat de France des Chauffeurs Routiers. In France, it seems, they have 13 regional semi-finals before the final (held this year at Bordeaux), in which two equal male champions are produced in separate rigid and artic categories. But they've got this women's lib thing further ahead than us, because they also have equal championships for women drivers in each category.
This year there were 36 finalists in the truck classes and 33 among the artics, and • the tests included an obstacle course in standard vehicle's — rather like our own manoeuvring tests but completed against the clock. Taking over six minutes for the course brought immediate elimination, as did exceeding four faults or taking a wrong turning on the course.
As in this country, the competition places emphasis upon skill and safety as a target for all lorry drivers, and not just the top few, and it is supported by a large number of organizations interested in road safety.
• Unblemished
Giving safe driving a cash value seems to bring smiles all round, in some companies. For instance, Avalon Furniture has just happily paid out over £400 to its accidentfree drivers in a scheme which has now been running successfully for eight years. Whenever one of the 33 drivers in the Avalon fleet receives even so much as a scratch on his vehicle, points are scored against him. At the end of the year these are totted up and the point-free drivers receive awards.
This year 21 ultra-careful drivers were rewarded, 'and one of them who has been consistently accident-free since the scheme began, received £37. On average, each man covers 35,000 miles a year and for one incident-free year he gets £12. This figure is increased by £5 for each consecutively "clean" year, plus a cup when he has completed 100,000 miles. When the scheme has covered a decade — in 1973 — Avalon proposes to issue a trophy named after the first driver to complete the whole period accident-free.
• Phew!
Sunday should have been the day when a 350-ton load of three massive towers for an oil refinery made a 16-mile journey on Wynn vehicles from the Cantina Laird shipyard in Birkenhead to the Shell refinery at Ellesmere Port. Dozens of council workmen dismantled traffic lights, pedestrian bridges and other obstacles and a 50-strong force of police was on duty to control the hundreds of onlookers who turned up for a grandstand view. But the day ended without the giant load moving an inch.
There was a technical hitch outside the control of all the participants, and so this six-hour journey which is costing £70,000 had to be called off until the coming Sunday. With such publicity and a guaranteed audience, they could surely cover the cost by passing the hat round.
• Last year?
Horace Cutler, chairman of the GLC planning and resources committee, said this week that he expected 1972 to be the year of the bus. If Sir Reginald Goodman, another GLC " member, is right in his estimate that the cheapest Tube fare in London next year will be 10p, then Horace Cutler could well be right. If, however, GLC leader Sir Reginald Plummer, is right in forecasting that London's buses will lose a record £9.3m in 1972 then Horace Cutler may need to amend his sentence by inserting the word "last" before "year".
There is a depressing consistency about London Transport's finances. In 1970 the buses lost £3.5m; in 1971 the losses are expected to be £6.5m, and now we have a £9.3m, deficit forecast for next year. British Rail had better look out: London Transport is catching up.
• National double?
Whatever the state of LTE finances, the bus industry generally is looking more optimistic than a year ago and State help is increasing. On the technical front, it may seem a little ironic that the Leyland National is being launched on the market just at a time when the double-decker is enjoying a new lease of life, but I gather that the possibility of a National double-decker certainly cannot be ruled out. A precedent for this has already been set by Metro-Scania, with the confirmation that MCW is working on the design of an integral double-decker employing similar Swedish-built engine and running units to those of the Anglo-Swedish single-decker.
With BLMC bus factories enjoying full order books for orthodox double-deckers, it would, of course, be some years before we could expect to see the National doubledecker. Meanwhile, single-deck Nationals will initially all be city or urban buses, but I gather that dual-purpose models could be in the pipeline. TO BECOME a member of the DAN Co-op Society for Public Transport Ltd of Tel Aviv or the Egged Ltd bus co-operative of Israel, it is necessary to have a current psv licence and to "invest" in the organization a sum equivalent to about 50 per cent of the cost of a vehicle, which is paid back when the member retires or leaves the organization.
All the managerial staff, most of the office staff, a large proportion of the drivers and some of the mechanics are members in each case, the ratio of members to "hired workers" being around three to two. Every member is paid the same basic wage and has a voice in the organization of the undertaking. In an emergency any member. may be called upon to drive a bus in service, apart from a small number of the managerial staff.
DAN operates 960 stage-carriage buses in Tel Aviv and surrounding areas having a total population of about 800,000, while the 3000 Egged buses are employed on urban services in Jerusalem and Haifa and on long-distance runs covering the entire country which has a population of approximately 3m. The two concerns jointly provide a tours service and it is possible that, in due course, they will be combined into one undertaking.
Leyland chassis While local services and tours are provided by small independent companies in a number of areas, DAN and Egged own the majority of psv in Israel. Apart from some vehicles being operated experimentally, all the buses run by the Co-ops are based on Leyland chassis and have locally made bodywork.
.Because all co-op members are experienced drivers, the management as well as the supervisory staff has a realistic appreciation of driving problems. A bus is normally driven by two drivers who are treated as the owners of the vehicle. And, consequently, they have a personal interest in its operation and upkeep.
In some cases, a driver is a member of a