Hounded off the roads
10th December 1971
Page 43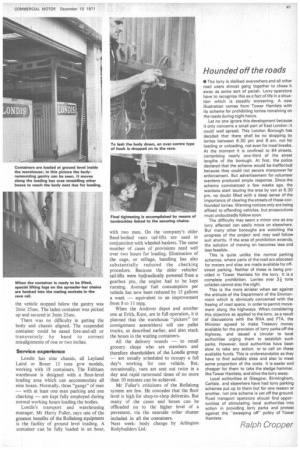 Page 43, 10th December 1971 —
Hounded off the roads
Close
• The lorry is disliked everywhere and all other road users almost gang together to chase it away as some sort of pariah, Lorry operators have to recognize this as a fact of life in a situation which is steadily worsening. A new illustration comes from Tower Hamlets with its scheme for prohibiting lorries remaining on the roads during night hours.
Let no one ignore this development because it only concerns a small part of East London: it could well spread. This London Borough has decided that there shall be no stopping by lorries between 6.30 pm and 8 am, not for loading or unloading, not even for meal breaks. At the moment it is confined to 84 streets, comprising nearly one-third of the street lengths of the borough. At first, the police declared that the scheme would be ineffectual because they could not secure manpower for enforcement. But advertisement for volunteer wardens produced ample response. Since the scheme commenced a few weeks ago, the wardens start touring the area by van at 6.30 pm, no doubt filled with a deep sense of the importance of clearing the streets of these confounded lorries. Warning notices only are being affixed to offending vehicles, but prosecutions must undoubtedly follow soon.
The difficulty may seem a minor one as any lorry affected can easily move on elsewhere. But many other boroughs are watching the progress of the project and may well follow suit shortly. If the area of prohibition extends, the solution of moving on becomes less and less feasible.
This is quite unlike the normal parking schemes, where parts of the road are allocated for meters and sites are made available for offstreet parking. Neither of these is being provided in Tower Hamlets for the lorry. It is a complete prohibition. Lorries over 24tons unladen cannot stay the night.
This is the more sinister when set against the attitude of the Department of the Environment which is obviously concerned with the freeing of road space, in order to permit movement along the highways. When considering this objective as applied to the lorry, as a result of discussions with the RHA and FTA, the Minister agreed to make Treasury money available for the provision of lorry parks off the highway, and issued a circular to local authorities urging them to establish such parks. However, local authorities have been slow to take any action. or to call on these available funds. This is understandable as they have to find suitable sites and also to meet some proportion of the costs. It is easier and cheaper for them to take the sledge hammer, like Tower Hamlets, and drive the lorry away.
Local authorities at Glasgow, Birmingham, Carlisle, and elsewhere have had lorry parking schemes put up to them but for one reason or another, not one scheme is yet off the ground. Road transport operators should find opportunities of stimulating local authorities into action in providing lorry parks and protest against the "sweeping offpolicy of Tower Hamlets.
Ralph Cropper