The champion in Sweden
10th December 1971
Page 36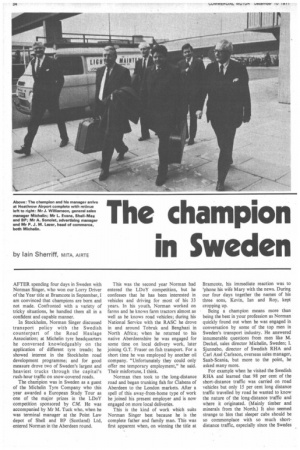 Page 37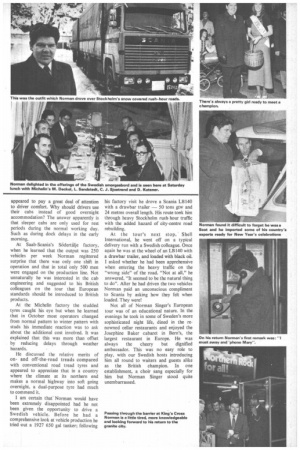 Page 36, 10th December 1971 —
The champion in Sweden
Close
Keywords :
Saab
,
Metropolitan Stockholm
,
Scania Ab
,
Södertälje Municipality
,
Scania
,
Volkswagen
,
Michelin
,
Truck
,
Saab Automobile
,
Stockholm
,
Sweden
by lain Sherriff, MITA, AIRTE
AFTER spending four days in Sweden with Norman Singer, who won our Lorry Driver of the Year title at Bramcote in September, I am convinced that champions are born and not made. Confronted with a variety of tricky situations, he handled them all in a confident and capable manner.
In Stockholm, Norman Singer discussed transport policy with the Swedish counterpart of the Road Haulage Association; at Michelin tyre headquarters he conversed knowledgeably on the application of different tyre treads; he showed interest in the Stockholm road development programme; and for good measure drove two of Sweden's largest and heaviest trucks through the capital's rush-hour traffic on snow-covered roads.
The champion was in Sweden as a guest of the Michelin Tyre Company who this year awarded a European Study Tour as one of the major prizes in the LDoY competition sponsored by CM. He was accompanied by Mr M. Tuck who, when he was terminal manager at the Point Law depot of Shell and BP (Scotland) Ltd, entered Norman in the Aberdeen round. This was the second year Norman had entered the LDoY competition, but he confesses that he has been interested in vehicles and driving for most of his 33 years. In his youth, Norman worked on farms and he knows farm tractors almost as well as he knows road vehicles; during his National Service with the RASC he drove in and around Tobruk and Benghazi in North Africa; when he returned to his native Aberdeenshire he was engaged for some time on local delivery work, later joining G.T. Fraser on fish transport. For a short time he was employed by another oil company. "Unfortunately they could only offer me temporary employment," he said. Their misfortune, I think.
Norman then took to the long-distance road and began trunking fish for Clabens of Aberdeen to the London markets. After a spell of this away-from-home type of work he joined his present employer and is now engaged on more local deliveries.
This is the kind of work which suits Norman Singer best because he is the complete father and family man. This was first apparent when, on winning the title at Bramcote, his immediate reaction was to 'phone his wife Mary with the news. During our four days together the names of his three sons, Kevin, Ian and Roy, kept cropping up.
Being a champion means more than being the best in your profession as Norman quickly found out when he was engaged in conversation by some of the top men in Sweden's transport industry. He answered innumerable questions from men like M. Deckel, sales director Michelin, Sweden; I. Sjunnebo, director of Swedish RHA and Carl Axel Carlsson, overseas sales manager, Saab-Scania, but more to the point, he asked many more.
For example when he visited the Swedish RHA and learned that 98 per cent of the short-distance traffic was carried on road vehicles but only 15 per cent long distance traffic travelled by road he wanted to know the nature of the long-distance traffic and where it originated. (Mainly timber and minerals from the North.) It also seemed strange to him that sleeper cabs should be so commonplace with so much shortdistance traffic, especially since the Swedes appeared to pay a great deal of attention to driver comfort. Why should drivers use their cabs instead of good overnight accommodation? The answer apparently is that sleeper cabs are only used for rest periods during the normal working day. Such as during dock delays in the early morning.
At Saab-Scania's Sodertalje factory, when he learned that the output was 250 vehicles per week Norman regiStered surprise that there was only one shift in operation and that in total only 500 men were engaged on the production line. Not unnaturally he was interested in the cab engineering and suggested to his British colleagues on the tour that European standards should be introduced to British products.
At the Michelin factory the studded tyres caught his eye but when he learned that in October most operators changed from normal pattern to winter pattern with studs his immediate reaction was to ask about the additional cost involved. It was explained that this was more than offset by reducing delays through weather hazards.
He discussed the relative merits of onand off-the-road treads compared with conventional road tread tyres and appeared to appreciate that in a country where the climate at its northern end makes a normal highway into soft going overnight, a dual-purpose tyre had much to commend it.
I am certain that Norman would have been extremely disappointed had he not been given the opportunity to drive a Swedish vehicle. Before he had a comprehensive look at vehicle production he tried out a 1927 650 gal tanker; following his factory visit he drove a Scania LB140 with a drawbar trailer — 50 tons gtw and 24 metres overall length. His route took him through heavy Stockholm rush-hour traffic with the added hazard of city-centre road rebuilding.
At the tour's next stop, Shell International, he went off on a typical delivery run with a Swedish colleague. Once again he was at the wheel of an LB140 with a drawbar trailer, and loaded with black oil. I asked whether he had been apprehensive when entering the heavy traffic on the "wrong side" of the road. "Not at all," he answered, "It seemed to be the natural thing to do". After he had driven the two vehicles Norman paid an unconscious compliment to Scania by asking how they felt when loaded. They were!
Not all of Norman Singer's European tour was of an educational nature. In the evenings he took in some of Sweden's more sophisticated night life, dined in the renowned cellar restaurants and enjoyed the Josephine Baker cabaret in Bern's, the largest restaurant in Europe. He was always the cheery but dignified ambassador. This was no easy role to play, with our Swedish hosts introducing him all round to waiters and guests alike as the British champion. In one establishment, a choir sang especially for him but Norman Singer stood quite unembarrassed.