Rejuvenated TMLC
10th December 1971
Page 35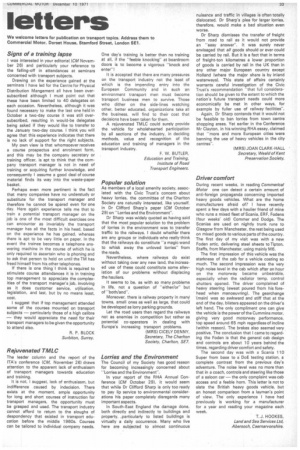 Page 35, 10th December 1971 —
Rejuvenated TMLC
Close
The leader column and the report of the ITA's conference (CM, November 261 draws attention to the apparent lack of enthusiasm of transport managers towards education and training.
It is not, I suggest, lack of enthusiasm, but indifference caused by indecision. There exists at the moment, ample opportunity for long and short courses of instruction for transport managers, the opportunity must be grasped and used. The transport industry cannot afford to return to the sloughs of despondency that existed in transport education before the middle 1960s. Courses can be tailored to individual company needs. One day's training is better than no training at all, if the "feeble knocking" at boardroom doors is to become a vigorous "knock and enter" I It is accepted that there are many pressures on the transport industry not the least of which is the impending entry into the European Community and in such an environment transport men must become transport business men to survive. Those who dither on the side-lines watching other, better educated, organizations take all the business, will find to their cost that decisions have been taken for them A rejuvenated TMLC could surely provide the vehicle for wholehearted participation by all sections of the industry, in deciding methods, value and recognition of the education and training of managers in the transport industry.
F. W. BUTLER, Education and Training, Institute of Road Transport Engineers.