Popular solution
10th December 1971
Page 35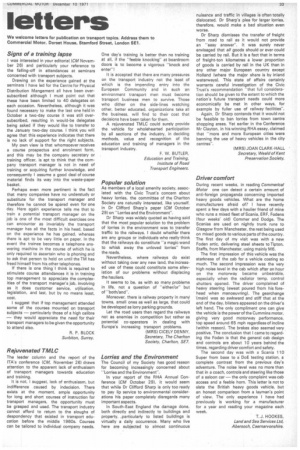 Page 35, 10th December 1971 —
Popular solution
Close
As members of a local amenity society, associated with the Civic Trust's concern about heavy lorries, the committee of the Charlton Society are naturally interested, like yourself, in Dr Clifford Sharp's paper (CM October 291 on "Lorries and the Environment-.
Dr Sharp was widely quoted as having said that the most popular solution to the problem of lorries in the environment was to transfer traffic to the railways. I doubt whethr there are any groups or individuals who really think that the railways do constitute "a magic wand to whisk away the unloved lorriesfrom the roads.
Nevertheless, where railways do exist without taking over any new land. the increased use of these could constitute some alleyiaton of our problems without displacing the hauliers.
lt seems to be, as with so many problems in life, not a question of -either/or" but of " both/a n d".
Moreover, there is railway property in many towns. small ones as well as large, that could be developed as lorry parking grounds.
Let the road users then regard the railways not as enemies in competition but rather as potential co-operators in dealing with Europe's increasing transport problems.
(MRS) CICELY DENNY, Secretary, The Charlton Society, Charlton, SE7.