Lorries and the Environment
10th December 1971
Page 35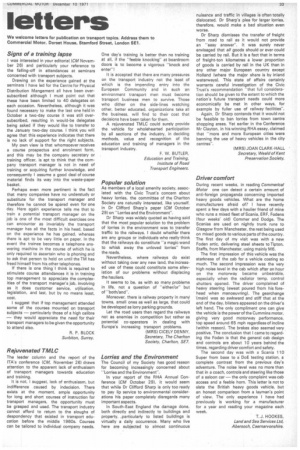 Page 35, 10th December 1971 —
Lorries and the Environment
Close
The Council of my Society has good reason for becoming increasingly concerned about "Lorries and the Environment".
In your report of the RHA Annual Conference (CM October 29), it would seem that while Dr Clifford Sharp is only too ready to pay lip service to environmental considerations his paper completely disregards many important aspects.
In South-East England the damage done, both directly and indirectly to buildings and property, particularly to listed buildings is virtually a daily occurrence. Many who live here are subjected to almost continuous nuisance and traffic in villages is often totally dislocated. Dr Sharp's plea for larger lorries, therefore, would make a bad situation even worse.
Dr Sharp dismisses the transfer of freight from road to rail as it would not provide an "easy answer". It was surely never envisaged that all goods should or ever could be carried by rail. But it is a fact that in terms of freight-ton kilometres a lower proportion of goods is carried by rail in the UK than in any other major European country except Holland (where the major share is by inland waterways). This state of affairs certainly warrants careful investigation of the Civic Trust's recommendation "that full consideration should be given to the extent to which the nation's future transport needs could more economically be met in other ways, for example by fuller use of railway facilities-.
Again, Dr Sharp contends that it would not be feasible to ban lorries from town centre shopping areas. Yet earlier in the Conference Mr Clayton, in his winning RHA essay, claimed that "more and more European cities were banning the use of heavy vehicles in the city centres-.
(MRS) JOAN CLARK-HALL Secretary, Weald of Kent Preservation Society.