Driver comfort
10th December 1971
Page 35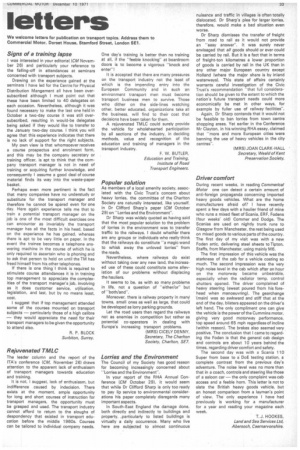 Page 35, 10th December 1971 —
Driver comfort
Close
During recent weeks, in reading Commerical Motor one can detect a certain amount of anti-foreign propaganda concerning imported heavy goods vehicles. What are the home manufacturers afraid of? I have recently spent a few days with a haulier friend of mine who runs a mixed fleet of Scania, ER F, Fodens (four weeks' old) Commer and Dodge. The Scanias are used on nightly trunk runs to Glasgow from Manchester, the rest being used on mixed goods to various parts of the country. The first day of my visit was with a new Fodert artic, delivering steel sheets to Tipton, Staffs, from Manchester, using mainly M6.
The first impression of this vehicle was the starkness of the cab for a vehicle costing so much. The second impression was the very high noise level in the cab which after an hour on the motorway became unbearable, especially when the radiator temp, control shutters opened. The driver complained of heavy steering (sweat poured from his forehead when manoeuvring). The gearchange (main) was so awkward and stiff that at the end of the day, blisters appeared on the driver's left hand. The only compliment one can give the vehicle is the power of the Cummins motor, giving very good motorway performance, top speed around 65 mph regardless of incline (within reason). The brakes also seemed very positive. The conclusion that I came to regarding the Foden is that the general cab design and controls are about 10 years behind the times, regarding driver comfort and safety.
The second day was with a Scania 110 Super from base to a DoE testing station, a complete contrast from the previous day's adventure. The noise level was no more than that in a coach, controls and steering like those of a saloon car — the only complaint was cab access and a feeble horn. This letter is not to slate the British heavy goods vehicle, but an honest comparison from a layman's point of view. The only experience I have had previously is working for a manufacturer for a year and reading your magazine each week.
T. J. HOOKES, Land and Sea Services Ltd, A bersoch, Caernarvonshire.