PEOPLE
10th December 1971
Page 32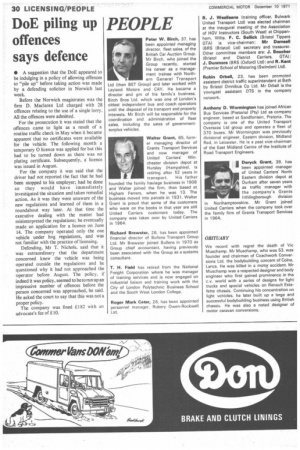 Page 32, 10th December 1971 —
PEOPLE
Close
Peter W. Birch, 37, has been appointed managing director, fleet sales, of the British Car Auction Group. Mr Birch, who joined the Group recently, started his career as a management trainee with Northern General Transport Ltd (then BET Group/ and later worked with Leyland Motors and CAV. He became a director and gm of his family's business, Birch Bros Ltd. which was one of London's oldest independent bus and coach operators until the disposal of its transport and property interests. Mr Birch will be responsible for the coordination and administration of fleet sales, including the sales of governmentsurplus vehicles.
Walter Grant 65, former managing director of Grants Transport Services and now manager of United Carriers' Winchester division depot at Hursley (Hampshire), is retiring after 52 years in transport. His father founded the family haulage business in 1908 and Walter joined the firm, then based at Higham Ferrers, when he was 13. The business moved into parcels in 1931. Walter Grant is proud that some of the customers who were on the books in that year are still United Carriers customers today. The company was taken over by United Carriers in 1964.
Richard Brewster, 26, has been appointed financial director of Bullens Transport Group Ltd. Mr Brewster joined Bullens in 1970 as Group chief accountant, having previously been associated with the Group as a systems consultant.
T. H. Field has retired from the National Freight Corporation where he was manager of training services and is now engaged On industrial liaison and training work with the City of London Polytechnic Business School and the South West London College.
Roger Mark Cater, 26, has been appointed personnel manager, Rubery Owen-Rockwell Ltd.
R. J. Wea!leans (training officer, Bulwark. United Transport Ltd) was elected chairman at the inaugural meeting of the Association of HGV Instructors (South West) at Chippenham, Wilts, F. C. Sellick (Bristol Tippers GTA) is vice-chairman; Mr Damsel! (BRS (Bristol) Ltd) secretary and treasurer. Other committee members are: J. Boucher
(Bristol and District Carriers, GTA); .1. Dunmore (BRS (Oxford) Ltd): and R. Kent (Premier School of Motoring (Swindon) Ltd).
Robin Orbell, 23, has been promoted assistant district traffic superintendent at Bath by Bristol Omnibus Co Ltd. Mr Orbell is the youngest assistant DTS in the company network.
Anthony D. Wormington has joined African Bus Services (Pretoria) (Pty) Ltd as company engineer, based at Sandfontein, Pretoria. The company is one of the United Transport Overseas Ltd group and operates a fleet of 370 buses. Mr Wormington was previously divisional engineer, Eastern division, Midland Red, in Leicester. He is a past vice-chairman of the East Midland Centre of the Institute of Road Transport Engineers.
Deryck Grant, 39, has been appointed manager of United Carriers' North Eastern division depot at Durham after seven years as traffic manager with the company's Grants Irthlingborough division in Northamptonshire. Mr Grant joined United Carriers when the company took over the family firm of Grants Transport Services in 1964.