DoE piling up offences says defence
10th December 1971
Page 32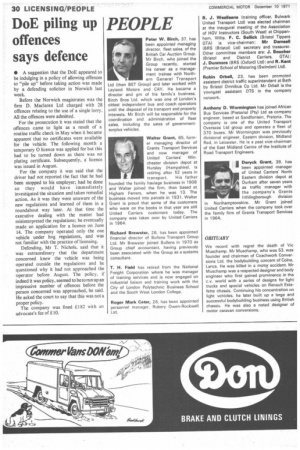 Page 32, 10th December 1971 —
DoE piling up offences says defence
Close
• A suggestion that the DoE appeared to be indulging in a policy of allowing offences to "pile up— before taking action was made by a defending solicitor in Norwich last week.
Before the Norwich magistrates was the firm D. MacLaren Ltd charged with 28 offences relating to the use of a single lorry. All the offences were admitted.
For the prosecution it was stated that the offences came to light as a result of a routine traffic check in May when it became apparent that no certificates were available for the vehicle. The following month a temporary 0 licence was applied for but this had to be turned down as there was no plating certificate. Subsequently, a licence was issued in August.
For the company it was said that the driver had not reported the fact that he had been stopped to his employer; had he done so they would have immediately investigated the situation and taken remedial action. As it was they were unaware of the new regulations and learned of them in a roundabout way later. At that time the executive dealing with the matter had misinterpreted the regulations; he eventually made an application for a licence on June 14. The company operated only the one vehicle under hvg regulations, and was not familiar with the practice of licensing.
Defending, Mr T. Nichols. said that it was extraordinary that the department concerned knew the vehicle was being operated outside the regulations and he questioned why it had not approached the operator before August. The policy, if indeed it was policy, seemed to be to run up an impressive number of offences before the person concerned was approached, he said. He asked the court to say that this was not a proper policy. The company was fined /182 with an advocate's fee of 110.