'Trivial defect' plea not accepted
10th December 1971
Page 31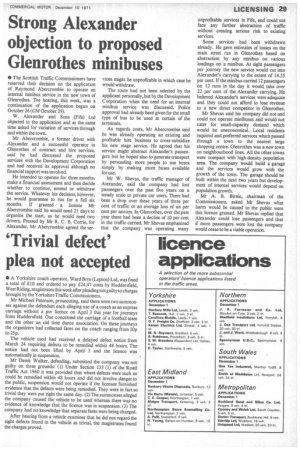 Page 31, 10th December 1971 —
'Trivial defect' plea not accepted
Close
• A Yorkshire coach operator, Ward Bros (Lepton) Ltd, was fined a total of £10 and ordered to pay £24.47 costs by Huddersfield, West Riding, magistrates this week after pleading not guilty to charges brought by the Yorkshire Traffic Commissioners.
Mr Michael Paterson, prosecuting, said there were two summonses against the defendant each alleging use of a coach as an express carriage without a psv licence on April 3 this year for journeys from Huddersfield. One concerned the carriage of a football team and the other an old time dance association. On these journeys the organizers had collected fares on the coach ranging from 10p to 25p.
The vehicle used had received a delayed defect notice from March 24 requiring defects to be remedied within 48 hours. The notice had not been lifted by April 3 and the Licence was automatically in suspension.
Mr Derek Walker, defending, submitted the company was not guilty on three grounds: (1) Under Section 133 (1) of the Road Traffic Act 1960 it was provided that where defects were such as could be remedied within 48 hours and did not involve danger to the public, suspension would not operate if the licensee furnished evidence that the defects were being remedied. They were in fact so trivial they were put right the same day. (2)The summonses alleged the company caused the vehicle to be used whereas there was no evidence of knowledge that the licence was in suspension. (3) The company had no knowledge that separate fares were being charged.
After hearing from a vehicle examiner that he did not regard the eight defects found in the vehicle as trivial, the magistrates found the charges proved.