Strong Alexander objection to proposed Glenrothes minibuses
10th December 1971
Page 31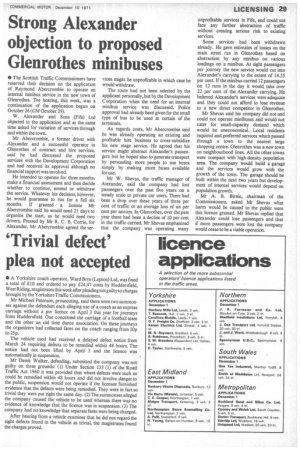 Page 31, 10th December 1971 —
Strong Alexander objection to proposed Glenrothes minibuses
Close
• The Scottish Traffic Commissioners have reserved their decision on the application of Raymond Abercrombie to operate an internal minibus service in the new town of Glenrothes. The hearing, this week, was a continuation of the application begun on October 26 (CM October 29).
W. Alexander and Sons (Fife) Ltd objected to the application and at the same time asked for variation of services through and within the town.
Mr Abercrombie, a former driver with Alexander and a successful operator in Glenrothes of contract and hire services, said he had discussed the proposed services with the Development Corporation and had received its approval although no financial support was involved.
He intended to operate for three months, make a financial assessment and then decide whether to continue, amend or withdraw the service. Whatever his decision, however, he would guarantee to run for a full six months. If granted a licence Mr Abercrombie said he would need 21 days to organize the start, as he would need two drivers. Pressed by Mr R. C. B. Come, for Alexander. Mr Abercrombie agreed the ser
vices might be unprofitable in which case he would withdraw.
The route had not been selected by the applicant personally, but by the Development Corporation when the need for an internal minibus service was discussed. Police approval had already been given for the small type of bus to be used at certain of the terminals.
As regards costs, Mr Abercrombie said he was already operating an existing and profitable hire business to cross-subsidize his new stage service. He agreed that his service might abstract Alexander's passengers but he hoped also to generate transport by persuading more people to use buses simply by making more buses available for use.
Mr W. Shevas, the traffic manager of Alexander. said the company had lost passengers over the past five years on a steady scale to private car users. There had been a drop over these years of three per cent of traffic or an average loss of six per cent per annum. In Glenrothes, over the past year there had been a decline of 10 per cent in the traffic carried. Mr Shevas emphasized that the company was operating many unprofitable services in Fife, and could not face any further abstraction of traffic without creating serious risk to existing services.
Some services had been withdrawn already. He gave estimates of losses on the main street run in Glenrothes based on abstraction by any minibus on various loadings on a minibus. At eight passengers per journey the new service would cut into Alexander's carrying to the extent of 14.35 per cent. If the minibus carried 12 passengers on 12 runs in the day it would, take over 22 per cent of the Alexander carrying. He believed Alexander's services were adequate and they could not afford to lose revenue to a new direct competitor in Glenrothes.
Mr Shevas said his company did not and could not operate minibuses and would not cater for small-capacity demand which would be uneconomical. Local residents required and preferred services which passed through a town to the nearest large shopping centre. Glenrothes was a new town on neighbourhood lines. All the other towns were compact with high-density population area. The company would build a garage and the services would grow with the growth of the town. The garage should be built within the next two years but development of internal services would depend on population growth.
Mr A. B. Birnie, chairman of the Commissioners, asked Mr Shevas what harm would be caused to the public were this licence granted. Mr Shevas replied that Alexander could lose passengers and that if more passengers were lost the company would cease to be a viable operation.