No witnesses so LA acts on examiners' evidence
10th December 1971
Page 30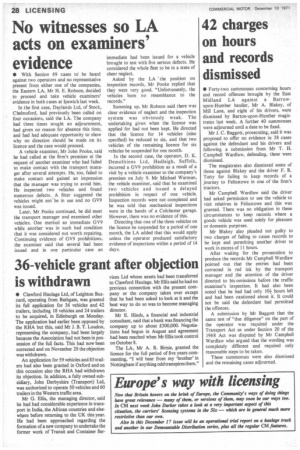 Page 30, 10th December 1971 —
No witnesses so LA acts on examiners' evidence
Close
• With Section 69 cases tci be heard against two operators and no representative present from either one of the companies, the Eastern LA, Mr H. E. Robson, decided to proceed and take vehicle examiners' evidence in both cases at Ipswich last week.
In the first case, Daylands Ltd, of Stock, Chelmsford, had previously been called on four occasions, said the LA. The company had three times sought an adjournment, had given no reason for absence this time, and had had adequate opportunity to show why no direction should be made on its licence and the case would proceed.
A vehicle examiner, Mr John Pooke, said he had called at the firm's premises at the request of another examiner who had failed to make contact with the transport manager after several attempts. He, too, failed to make contact and gained an impression that the manager was trying to avoid hini. He inspected two vehicles and found numerous defects. A fitter suggested the vehicles might not'be in use and no GV9 was issued.
Later, Mr Pooke continued, he did meet the transport manager and examined other vehicles. One merited an immediate 0V9 while another was in such bad condition that it was considered not worth repairing. Continuing evidence of GV9 prohibitions, the examiner said that several had been issued and in one particular case an immediate had been issued for a vehicle brought to test with five serious defects. He considered the whole fleet to be in a state of sheer neglect.
Asked by the LA • the position on inspection records, Mr Pooke replied that they were very good. "Unfortunately, the vehicles bore no resemblance to the records."
Summing up, Mr Robson said there was clear evidence of neglect and the inspection system was obviously weak. The undertaking given when the licence was applied for had not been kept. He directed that the licence for 14 vehicles (nine specified) be reduced to six, and that two vehicles of the remaining licence for six vehicles be suspended for one month.
In the second case, the operator, D. K. Demolitions Ltd, Hadleigh, Suffolk, incurred a 0V9 prohibition as a result of a visit by a vehicle examiner to the company's premises on July 9. Mr Michael Warman, the vehicle examiner, said that he examined two vehicles and issued a delayed prohibition in respect of one vehicle. Inspection records were not completed and he was told that mechanical inspections were in the hands of a Colchester garage. However, there was no evidence of this.
Directing that one of the three vehicles on the licence be suspended for a period of one month, the LA added that this would apply unless the operator produced satisfactory evidence of inspections within a period of 14 days.