42 charges on hours and records dismissed
10th December 1971
Page 30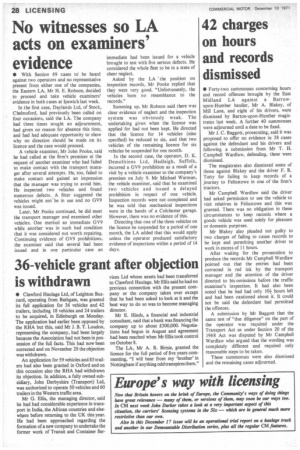 Page 30, 10th December 1971 —
42 charges on hours and records dismissed
Close
• Forty-two summonses concerning hours and record offences brought by the East Midland LA against a Barrowupon-Humber haulier; Mr A. Blakey, of Mill Lane, and eight of his drivers, were dismissed by Barton-upon-Humber magistrates last week. A further 40 summonses were adjourned until a date to be fixed.
Mr J. C. Baggott, prosecuting, said it was proposed to offer no evidence in 38 cases against the defendant and his drivers and following a submission from Mr T. H. Campbell Wardlaw, defending, these were dismissed.
The magistrates also dismissed some of those against Blakey arid the driver F. R. Tutty for failing to keep records of a journey to Felixstowe in one of the firm's tractors.
Mr Campbell Wardlaw said the driver had asked permission to use the vehicle to visit relatives in Felixstowe and this was granted. There was no obligation in these circumstances to keep records where a goods vehicle was used solely for pleasure or domestic purposes.
Mr Blakey also pleaded not guilty to two charges of failing to cause records to be kept and permitting another driver to work in excess of 11 hours.
After waiting for the prosecution to produce the records Mr Campbell Wardlaw pointed out that the entries had been corrected in red ink by the transport manager and ,the attention of the driver directed to his omissions before the traffic examiner's inspection. It had also been noted that he had had only 10+ hours left and had been cautioned about it. It could not be said the defendant had permitted the offences.
A submission by Mr Baggott that the same test of "due diligence" on the part of the operator was required under the Transport Act as under Section 20 of the 1968 Act was disputed by Mr Campbell Wardlaw who argued that the wording was completely different and required only reasonable steps to be taken.
These summonses were also dismissed and the remaining cases adjourned.