36-vehicle grant after objection is withdrawn
10th December 1971
Page 30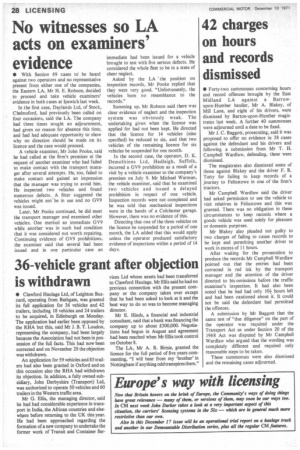 Page 30, 10th December 1971 —
36-vehicle grant after objection is withdrawn
Close
• Clawford Haulage Ltd, of Leighton Buzzard, operating from Bathgate, was granted its full application for 36 vehicles and 42 trailers, including 18 vehicles and 24 trailers to be acquired, in Edinburgh on Monday. The application had earlier been opposed by the RHA but this, said Mr J. B. T. Loudon, representing the company, had been largely because the Association had not been in possession of the full facts. This had now been corrected and on November 29 the objection was withdrawn.
An application for 59 vehicles and 85 trailers had also been granted in Oxford and on this occasion also the RHA had withdrawn its objection. In addition, a fully owned subsidiary, John Derbyshire (Transport) Ltd, was authorized to operate 50 vehicles and 60 trailers in the Western traffic area.
Mr G. Ellis, the managing director, said he had had considerable experience in transport in India, the African countries and elsewhere before returning to the UK this year. He had been approached regarding the formation of anew company to undertake the former work of Transit and Container Ser
vices Ltd whose assets had been transferred to Clawford Haulage. Mr Ellis said he had no previous connection with the present company or the company taken over except that he had been asked to look at it and the best way to do so was to become managing director.
Mr E. Hinds, a financial and industrial consultant, said that a bank was financing the company up to about £300,000. Negotiations had begun in August and agreement had been reached when Mr Ellis took control on October 8.
The LA, Mr A. B. Binne, granted the licence for the full period of five years commenting, "I will hear from my `brother' in Nottingham if anything odd transpires there."