Some manufacturers are keeping their customers hanging about waiting for delivery. We call that 'Independent suspension:
10th December 1971
Page 28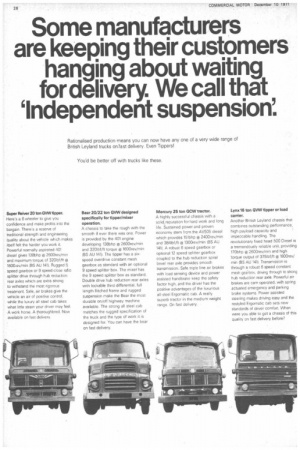 Page 28, 10th December 1971 —
Some manufacturers are keeping their customers hanging about waiting for delivery. We call that 'Independent suspension:
Close
Super Reiver 20 ton GVW tipper. Here's a 6 wheeler to give you confidence and make profits into the bargain. There's a reserve of traditional strength and engineering quality about the vehicle which makes itself felt the harder you work it. Powerful normally aspirated 401 diesel gives 138bhp 2600rev/min and maximum torque of 3201bfift 1800iev/min (BS AU 141). Rugged 5 speed gearbox or 9 speed close ratio splitter drive through hub reduction rear axles which are extra strong to withstand the most rigorous treatment. Safe, air brakes give the vehicle an air of positive control, while the luxury all steel cab takes what little strain your driver may feel. A work horse. A thoroughbred. Now available on fast delivery. Bear 20/22 ton GVVV designed specifically for tipper/mixer operation.
A chassis to take the rough with the smooth if ever there was one. Power is provided by the 401 engine developing 138bhp 2600rev/min and 3201bf/ft torque 1600rev/min (BS AU 141). The tipper has a sixspeed overdrive constant mesh gearbox as standard with an optional 9 speed splitter box. The mixer has the 9 speed splitter box as standard. Double drive hub reduction rear axles with lockable third differential, full length flitched frame and rugged suspension make the Bear the most durable on/off highway machine available. The strong all steel cab matches the rugged specification of the truck and the type of work it is designed for. You can have the bear on fast delivery. Mercury 25 ton GCW tractor. A highly successful chassis with a solid, reputation for hard work and long life. Sustained power and proven economy stem from the AV505 diesel which provides 151bhp 2400rev/min and 384Ibf/ft @1300rev/min (BS AU 141). A robust 6 speed gearbox or optional 12 speed splitter gearbox coupled to the hub reduction spiral bevel rear axle provides smooth transmission. Safe triple line air brakes with load sensing device and power assisted handbrake keep the safety factor high, and the driver has the positive advantages of the luxurious all-steel Ergomatic cab. A really superb tractor in the medium weight range. On fast delivery. Lynx 16 ton GVVV tipper or load carrier.
Another British Leyland chassis that combines outstanding performance, high payload capacity and impeccable handling. The revolutionary fixed head 500 Diesel is a tremendously reliable unit. providing 170bhp 2600rev/min and high torque output of 375Ibf/ft @1800rev/ min (BS AU 141). Transmission is through a robust 6 speed constant mesh gearbox, driving through to strong hub reduction rear axle. Powerful air brakes are cam operated, with spring actuated emergency and parking brake systems. Power assisted steering makes driving easy and the restyled Ergornatic cab sets new standards of driver comfort. When were you able to get a chassis of this quality on fast delivery before?